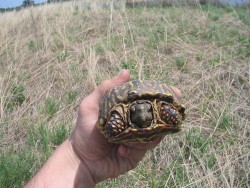 A student presents a box turtle, a resident of the Sandhill Prairie.
The past decade has been a difficult one for the Sandhill Prairie box
turtles, but Drake students and their professor hope to give the
endangered turtles a fighting chance through their research.
Keith Summerville, who has served as an associate professor of
environmental science and policy at Drake University since 2002, has
been guiding teams of students to Polk County's Sandhill Prairie in
Chichaqua Bottoms Greenbelt for four years, researching the lifestyle
habits and population structure of box turtles.
"The study has evolved from a general examination of population
size and habitat patterns towards a more detailed analysis of
reproductive success, sex ratio and dispersal behavior," said
Summerville. "With this information, we can determine the best way to
help the turtle population survive and grow."
This year, Summerville's undergraduate research team includes:

Jamie Lane, a junior environmental science major from Hastings, Minn.
Bret Lang, a senior environmental policy major from Kanawha, Iowa
Dana Sinn, a junior environmental science major from Indianola, Iowa
"The turtles require open sandy areas to thrive, and these areas
are disappearing very quickly due to habitat destruction in Iowa," Sinn
said. "Currently, the ornate box turtle is an endangered species, and
populations are declining."
The project will teach the students about habitat fragmentation and
how it impacts the turtles; students also hope that their research will
aid in the expansion of Iowa turtle populations.
"It is important to understand as much as we can about them so we
can create an optimum species management plan," Lang said. "This will
help secure their future, not only in Chichaqua, but in the state of
Iowa as well."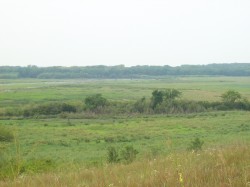 Drake students research and track the 15 turtles living on the prairie land.
Relocation to a new home
Ten years ago in Iowa City, the Iowa Department of Natural
Resources gave permission for housing expansion into a sand prairie
environment; the area was home to more than 50 box turtles.
The reptiles were subsequently relocated to their new habitat at Sandhill Prairie, an area with no native turtle population.
Summerville said that turtles visually imprint on the place where
they are born and, if they are relocated, will attempt to travel back
to their original home, no matter how great the distance. To prevent
this, the turtles' five-acre habitat was enclosed with fencing.
The fences were removed three years ago, and Summerville estimates
that there are 15 turtles currently living at Sandhill Prairie.
"We've found young turtles, so the good news is that the population
is breeding and the relocation was a success," Summerville said. "Our
long-term goal is to see the population grow within the next 10 years
to between 50 to 100 turtles."
"The turtles are native Iowans, and it's important for them to remain a part of the state's ecosystem," Lane said.
Summerville and his students will attach radio-tracking devices to
the turtles in order to record turtle movement, nesting behavior and
habitat use. They will also attempt to determine how the turtle
environment range has expanded.
Summerville, who also serves as associate dean for the Drake
College of Arts and Sciences, received his bachelor's degree from
Westminster College in 1995 and his master's degree from Miami
University in 1998. In 2002, he earned his doctorate from the Miami
University Department of Zoology.