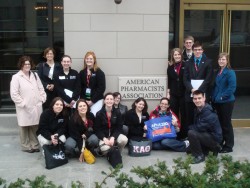 The Drake group gathers at the American Pharmacists Association in Washington, D.C.
Students in Drake's College of Pharmacy and Health Sciences were well represented at this year's American Pharmacists Association (APhA) convention recently held in Washington D.C.
Ben Urick of Geneseo, Ill., served on the APhA New Business Committee, which listens to newly proposed policies, then discusses them and decides whether or not to adopt them.
"This was a chance to affect the policies that APhA-ASP has on its books," Urick said. "I thoroughly enjoyed discussing new topics in pharmacy with my committee members and trying to decide what stance APhA-ASP should have on those issues."
While in D.C., Urick also had the opportunity to meet with U.S. Congressman Leonard Boswell. "I spoke to him on Friday and the health care bill passed on Sunday," Urick said. "I told him that I was very supportive of the bill, and that in my view it is positive for pharmacy and for patients. He said he was planning on voting for it."
Daphne Pearson of Knoxville, Iowa, sat on the House of Delegates Credentials Committee, which includes four student members appointed by the National Executive Committee in recognition of their leadership and service to the organization. The committee certifies chapter delegates to sit and vote in the APhA-ASP House of Delegates.



"This experience served as an opportunity for me to grow personally both as a leader and as a professional," Pearson said. "I also enjoyed meeting other student pharmacists and pharmacists from across the country and reuniting with those I met at previous meetings."
Tori Erxleben, of Arlington Heights, Ill., was nominated to the Awards Standing Committee, which will spend the coming year reading chapter reports from across the nation and selecting award winners. The group will also develop ways to improve the awards selection process, presenting its decisions and findings at next year's APhA conference, where they will also help orchestrate the 2011 Awards Ceremony.
"This experience will be valuable because it gives me the opportunity to network with students from across the country," Erxleben said. "There are only 16 standing committee positions nation-wide, so it was a great honor to be chosen by the National Executive Council."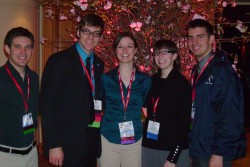 From left: Drake students Tim Humlicek, Ben Urick, Kathryn Owen, Jasmine Cessna and Andrew North gather during the meeting.
Scholarships recognize student involvement
Jordan Ruestman of Minonk, Ill., and Jessica Shalita of Las Vegas
each received a $1,000 APhA Foundation Scholarship toward their
tuition.
The scholarships recognize students who are active in their
school's Association-Academy of Student Pharmacists (APhA-ASP) Chapter
while managing the demands of full-time pharmacy curriculum.
"I was pleasantly surprised because I hadn't been expecting to win
this award," said Shalita. "I actually was the inaugural recipient the
previous year, and figured that it was unlikely that I would win twice,
but that it was worth a try."
Ruestman said that her experiences as president of Drake's APhA-ASP Chapter motivated her to pursue the scholarship.
"Applying for this scholarship just reminded me of my goal as a
leader at Drake," Ruestman said. "My goal for this year was that after
each APhA-ASP event, I wanted at least one student to leave a better
person. Upon winning the scholarship, it was a reward to be standing
with and among thousands of other student pharmacists all making the
same impact at their schools."
Both students were notified via e-mail that they had won the scholarships.
"My first reaction was to re-read the e-mail to make sure it really
said I just won, and then I got on the phone and called my parents,"
Ruestman said. "They have helped push me all along the way of the
program and were super excited when they heard the good news!"
Several students credited their experiences at Drake for their active involvement in pharmacy organizations.
"Drake has prepared me for a career in pharmacy by providing me
with an excellent education and also the opportunity to be involved in
the profession both on and off campus," Pearson said. "Drake has taught
me the importance of being a lifelong learner and an active member of
the pharmacy profession."
"Being involved in professional associations has also given me
outside of the classroom experience that has been invaluable to my
education as a person and future pharmacist," Shalita said. "The Drake
curriculum and faculty have given us, as students, many tools to
succeed within our student organizations. We can focus on the important
topics in pharmacy and make a difference in our profession through our
passion for patient care."