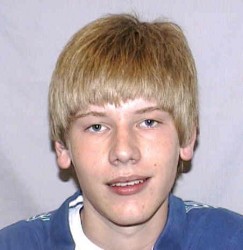 Benjamin Backstrom
A message from Drake University President David Maxwell:
The Iowa Division of Criminal Investigation announced today that it is now investigating the death of Drake sophomore Benjamin Backstrom as the result of a self-inflicted gunshot wound. The news release distributed today is posted on the Web site of the Iowa Department of Public Safety.
Law enforcement officials initially treated Ben's death on Tuesday, April 27, as a homicide and stressed that there was no danger to students, faculty or staff on the Drake campus.
The University continues to offer Ben's friends and family our deepest sympathies and support during this difficult time. We will maintain our focus on providing care for those affected by his passing. In the past week, the Drake family has come together in a variety of ways to offer one another support, solace and guidance.
I personally have been very moved by the ways in which Ben's friends, colleagues and faculty have taken ownership of one another's grief in an effort to share—and thus perhaps lessen—the burden. What we have seen and heard in these days gives me considerable hope that the campus community will be able to respond to this latest news with similar strength, wisdom and compassion.
Please remember that counselors are available to meet with students at the Counseling Center, located in the Student Health Building, and can be contacted at 515-271-3864. Outside of the Counseling Center's regular operating hours, the student life staff is able to reach counselors at any time on behalf of students. The Counseling Center can also refer faculty and staff to community resources.
I ask you to make this information available to others, especially to those whom you think might benefit from support services as they come to terms with Ben's death, particularly in the midst of end-of-semester deadlines. I would ask you to be sensitive to the ways in which those around you may be further affected by this news. You can refer those with signs of depression or other difficulties to the Counseling Center, or contact the Counseling Center directly for recommendations on how to talk to someone about the services available to them. In this regard, you can visit the Mayo Clinic Web site for information on signs of depression.
Drake University will continue to participate fully with the Warren County Sheriff's Office and the Iowa Division of Criminal Investigation in this continuing investigation. Should you have any information on this case, call the Sheriff's Office at 515-961-1122.