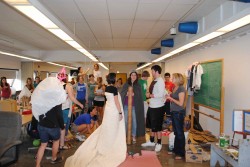 Students and participants express their creativity during the TASK Construction Party.
Drake students, faculty and friends came together to express and challenge their artistic creativity at a TASK Construction Party, a unique experiential event held last month by Drake's Department of Art and Design.
"It turned out incredibly well, with good student participation and an overall creative atmosphere," said Ben Gardner, assistant professor of art and design, who helped organize the event.
Contemporary artist Oliver Herring first created TASK parties, inviting institutions to organize and implement the improvisational events. The parties create a complex, ever-shifting environment where individuals are encouraged to express themselves through chaotic and purpose-driven interpretations of tasks.
"TASK's open-ended, participatory structure creates almost unlimited opportunities for a group of people to interact with one another and their environment," Herring said. "In theory, anything becomes possible."
The TASK structures rely on the same basic infrastructure: a designated area, a variety of props and materials and the participation of people. Participants must follow two rules:

Write down a task on paper and add it to a designated "TASK pool"
Pull a task from the pool and interpret it
"While we all had fun completing the tasks, the 'educational' component was heavily involved in the students being creative and pushing themselves to do things that they would not have necessarily done in a drawing or painting class," Gardner said.
The event required participants to build constructions, to interpret various tasks and to work as part of a collaborative project. Some of the more intriguing tasks included:

Making a four course dinner for someone
Removing your own spleen, sans anesthesia, with a spoon
Going camping: pitch a tent, build a fire and roast marshmallows
Reading all of the tasks in the box that have already been completed
Growing a beard
"The 'sculptures' that resulted out of the tasks are amazing to look at," said Gardner, who is currently planning an exhibition to showcase the products of the TASK party.
The TASK party helped connect individuals with one another through what was around them, while allowing people to express and test their own ideas in an environment without failure and success. In Herring's words, "TASK always is what it is."