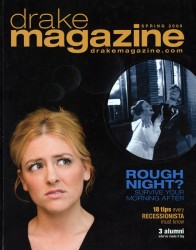 Drake University students are in the running for national awards from the Society of Professional Journalists (SPJ) after placing first in two categories in the Region 7 Mark of Excellence Awards competition.
Out of six Drake finalist magazines and projects, two attained a first place ranking, one earned second place and three were honored for third place. This year, the SPJ contest received more than 3,600 entries in 39 categories from 12 regions for the 2009 calendar year.
"It's rewarding to see our students excel in so many categories, from print to online, from writing to graphic design," said Lori Blachford, the Peggy Fisher and Larry Stelter Chair in Magazine Journalism and faculty adviser for Drake Magazine. "That kind of versatility is essential in our new media landscape."
Honorees were awarded certificates at the April 10 Region 7 SPJ Spring Conference in Omaha, Neb. First place regional winners will advance to the national round of judging at the 2010 SPJ Convention & National Journalism Conference in Las Vegas this October.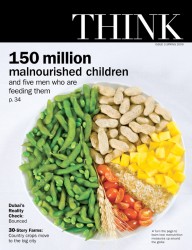 The Drake finalists, nominated in the Four-Year College/University division, are:
First Place:

Best Student Magazine:

Drake Magazine, spring 2009; editor Tara Richards, who graduated with a
bachelor's degree in magazines in December 2009 and now lives and works
in Chicago

Photo Illustration:

Darin Friedrichs, a junior economics and international business major
of Le Mars, Iowa; Drake Magazine, "Morning After Survival Guide"
Second Place:

Best Affiliated Web Site:

THiNK magazine
Third Place:

Best Affiliated Web Site:

Drake Magazine

Best Student Magazine:

515 magazine, fall 2009; editor Max Plenke, a senior magazines major of Minneapolis

Non-Fiction Magazine Article:

Kayla Craig, Des Moines, who graduated with a bachelor's degree in
magazines in May 2009; THiNK magazine, "Starving for Solutions"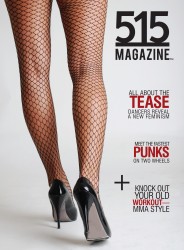 "[Drake Magazine] Editor Tara Richards and her staff really did a
fantastic job with that issue; it has won a number of awards,"
Blachford said. She also noted that Darin Friedrichs, who also earned
first place for his photo illustration for the magazine, provides a
great example of how Drake's student publications open doors for all
students.
"Here was an economics major working on a photo illustration for
the campus magazine," Blachford said. "That's the kind of involvement
and creativity we love to see from all Drake students."
Drake Magazine is a biannual magazine produced entirely by students
and supported by student fees. THiNK and 515, produced entirely by
students in Drake's School of Journalism and Mass Communication, are
annual senior capstone projects for magazine and news-Internet majors.
THiNK and 515 receive financial support from Meredith Corp. of Des
Moines and the Meredith family.