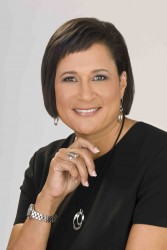 Sally Davis
Sally Davis, FA'85 and GR'86, is one of 16 recipients of the 2010 POW! Awards presented by Womenetics, an organization that honors innovative female leaders who create more prosperous opportunities for women.
The awards, which were presented last month, honor purposeful women who have transformed vision into action, broken down barriers, conquered challenges and have attained success in the workplace.
Davis is vice president of institutional advancement, marketing and communications at Morehouse School of Medicine (MSM) in Atlanta. In her position, she has overcome institutional obstacles to help transform the team she works with into a team with integrated marketing, sales and fundraising functions.
"Sally Davis is a leader, visionary and a mentor," said MSM President Dr. John E. Maupin Jr. "Sally has made a tremendous impact at Morehouse School of Medicine and in our community and we look forward to her continued success."
As a leader, Davis uses team volunteer services and team-building exercises as vehicles for her staff to work together as a collaborate team. "I enjoy coming to work every day because I know more about the people I work with," she said.
Through Davis's volunteering she has helped build staff interest in service projects. The team is currently working with at-risk students of all ages at the Carrie Steele Pitts Home in Atlanta. The team encourages students to study, stay in school and graduate.
Under Davis's strategic direction, MSM launched a new Honors Scholarship initiative: A Call to Engage in the Academic Lives of MSM Students. The new program has resulted in more than a 200 percent increase in scholarships.
Prior to her appointment at MSM, Davis used her consulting expertise in Fortune 100 and 500 public and private companies and not-for-profit agencies, and also worked in private and public colleges and universities.
Morehouse School of Medicine (MSM) recruits and trains minority and other students as physicians, biomedical scientists and public health professionals committed to improving the health and well-being of communities. MSM is a member of the largest consortium of Historically Black Colleges and Universities (HBCUs) in the world — the Atlanta University Center (AUC). Visit www.msm.edu.
The mission of Womenetics is to uplift, elevate and empower women. Womenetics connects and inspires women in their personal and professional lives and seeks to provide the knowledge and tools that help women attain their vision for success. Check out www.womenetics.com.