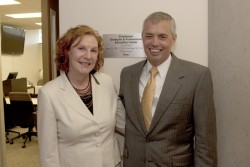 Kathi and Larry Zimpleman
Drake recently recognized alumnus and Board of Trustees member Larry Zimpleman, BN'73, GR'79, at a ribbon-cutting ceremony for his support of the University and transformation of Aliber Hall's Graduate and Professional Education Center.
Zimpleman, chairman, CEO and president of Principal Financial Group, contributed a generous gift to fund the renovation of room 108 in Aliber Hall, where he was honored during a ceremony and reception.
Drake President David Maxwell, members of the Board of Trustees and the College of Business and Public Administration National Advisory Council, along with Drake students, faculty and staff, joined Zimpleman for the special reception.
Room 108 has been transformed into the Graduate and Professional Education Center, which is used for graduate and professional courses at Drake. The room, which was designed to meet the needs of adult learners in evening classes and all-day seminars and workshops, is equipped with state-of-the-art technology and tools for learning and presentations.
"Our new center created more space for Drake students to learn, interact and present in a state-of-the-art classroom, and gives faculty the resources and technology they need to teach in today's world," said Charlie Edwards, dean of the college.
"Kathi and I are glad to help Drake with the resources needed to enhance the learning environment for students," Zimpleman said.
Since 2006, Zimpleman has been president and COO of Principal Financial Group. He oversees the company's global and domestic operations, Principal Bank, life and health insurance businesses and the Principal Global Investors global asset management businesses.
Zimpleman joined the company in 1971 as a part-time actuarial student. From 1976 to 1997 he served in various management and leadership positions at the officer level in the pension department. He was named vice president in 1997 and senior vice president in 1999.
He was named president of the Principal Financial Group Retirement and Investor Services Segment in 2003. He serves as chairman of the board and a director of Principal Funds.
Zimpleman became a Fellow of the Society of Actuaries in 1976, and is a past member of the Board of Governors of the Society. He is also past president and board chair of the American Academy of Actuaries, and was named an Actuarial Foundation Trustee in 1999. Zimpleman was a delegate at the 2002 and 2006 National Summit on Retirement Savings hosted by President George W. Bush and the Secretary of Labor.