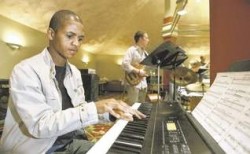 Des Moines Register photo of Kabelo Witness Matlou.
Kabelo Witness Matlou, an exchange student from South Africa, has spent his time in the United States not only attending classes at Drake University, but giving jazz performances throughout Des
Moines, which will include a solo piano recital on Saturday, May 1.
The free, public performance will begin at 2 p.m. on the
Jordan Stage in Sheslow Auditorium, Old Main, 2507 University Ave.
Matlou also will be featured when Drake Jazz Ensemble I performs at 7:30 p.m.
Tuesday, May 4, in the Performing Arts Hall of the Harmon Fine Arts
Center, 25th Street and Carpenter Avenue.
Matlou, a member of Jazz I, was recently profiled in a Des Moines Register article.
Prior to attending Drake, Matlou studied music at the University of KwaZulu-Natal in South Africa. After he decided to study abroad in the United States, where jazz music originates, he chose Drake after watching YouTube clips of the school's jazz band.
"I liked what I saw," Matlou said.
A video of Matlou performing with other Drake students can viewed on YouTube.
"He has really great ears, so he learns very quickly," said James Romain, associate professor of saxophone and assistant director of jazz studies at Drake. Matlou is a student in Romain's jazz improvisation course.
"With jazz, there's no country, there's no age," said Abe Goldstien, a Drake graduate and jazz connoisseur who has heard Matlou perform in many venues. "Witness grew up in South Africa, but he could still walk into a Des Moines session with guys who grew up on a farm somewhere, and they could work through a tune."
"Witness is extremely talented and
rhythmic," added Roland Hart, a first-year student from Cedar Rapids who plays saxophone with Matlou in several ensembles. "He incorporates music from his culture into jazz, which
creates an interesting mix that is unique to him. New ideas and
new perspectives always make playing with new jazz musicians
interesting. I've never heard another player like Witness and I'm sure
I never will."