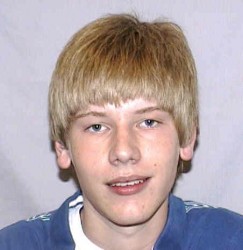 Benjamin Backstrom
Drake University President David Maxwell invites the campus community to come together at 3 p.m. on Saturday, May 1,
at the Agora on Helmick Commons, to remember Drake sophomore Benjamin Backstrom, a business major from
Norwalk, Iowa, who died earlier this week.
The service is
being planned with input from students and will provide an opportunity for the Drake family to remember Ben, who quickly won
the affection and respect of all who met him.
Several close friends of Backstrom will speak at the event, which also will include remarks from President Maxwell and the Rev. Ted Lyddon Hatten of Wesley House, as well as some selected readings. There will be a time for community reflection to give individuals an opportunity to share their thoughts and feelings.
Those in attendance will then walk to the Pomerantz Stage in Olmsted Center for a showing of a student-created slideshow about Backstrom. Following the slildeshow, the group will gather around a tree on the south side of Goodwin-Kirk Residence Hall near University Avenue. The Student Senate will later arrange to plant a tree and display a plaque at this site as a memorial to Backstrom.
In case of rain, the events at the Agora in Helmick Commons will be held on the Pomerantz Stage in Olmsted Center.
As announced earlier, there is a memorial service at 10 a.m. Saturday,
May 1, at Wakonda Christian Church, 3938 Fleur Drive in Des Moines.
The University and the College of Business and Public Administration
Student Leadership Council have arranged charter buses that will leave from the Olmsted parking lot at 9 a.m. for the service
at the church. Buses will return immediately after the service.
A full obituary is posted on the Isles Funeral Home Web site and Drake memorial site is available at https://wwww.drake.edu/memorial/.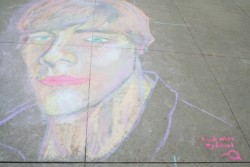 A chalk portrait of Benjamin Backstrom
Students have already held two candlelight vigils on campus to honor Backstrom's memory.
At Wednesday night's vigil, students read Bible verses, lit candles, joined in prayers and shared memories of
Backstrom in the ballroom of
Morehouse Residence Hall.
At the first vigil on Tuesday night, students lit candles, drew
pictures and wrote remembrances in chalk on the sidewalks in front of
Olmsted Center. Sophomore James "Quint" Hall spent hours creating a
detailed portrait of Backstrom, signing the work with these words: "I
just miss my friend. Q."



The following message was sent to the Drake community from Drake University President David Maxwell on Tuesday:
It is with great sorrow that I write to inform you of the passing
of a member of the Drake family. Early on the morning of Tuesday, April
27, sophomore Benjamin Backstrom was the victim of an off-campus
violent crime. I want to express sincere condolences to the family and
friends who shared in Ben's life. Known for his thoughtfulness, Ben
will live on in the memories of each and every person he touched.
Incomprehensibly tragic events such as this test the very fabric of
the Drake University family. It is a time when we as a community must
come together to console and support one another, to do what we can to
ease the pain for Ben's family and friends, and to find a way forward
that honors Ben's memory and the place that he holds in the heart of
the University.
We will continue to provide updates as they become available and
provide information to the campus community once a memorial has been
planned. If you would like to share a memory of Ben with the Backstrom
family, please send an email to sharing@drake.edu or drop off a note in
the Office of Marketing and Communications on the third floor of Old
Main. We will ensure that your messages are delivered to the family,
and we are doing everything that we can to support Ben's family at this
time.
Please know that the care and support of our campus community are
of utmost importance to me and to all members of the administration,
faculty and staff. We are reaching out to all faculty, staff and
students, including those who lived near Ben, to provide someone to
talk to or for grief counseling.
Counselors are available through the Counseling Center, located in
the Student Health Building and can be contacted at (515) 271-3864. The
telephone line is staffed 24 hours a day with resources and access to
someone with whom you can talk. For those who are grieving, I
encourage you to reach out to a friend, counselor, minister, rabbi,
priest or trusted confidant to talk through your emotions.
Drake University is participating fully in the investigation, which
is being led by the Warren County Sheriff's Office and the Iowa
Division of Criminal Investigation (DCI). The DCI confirmed for campus
administrators that there is no imminent threat or danger to anyone on
campus. We encourage anyone on campus with information in this case to
call the Sheriff's Office at (515) 961-1122.