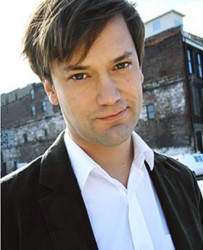 Guest Director Adam Heffernan
Drake University Theatre's production of "Fefu and Her Friends," a play
that examines the darker aspects of gentility, opened Thursday,
April 29, and runs through May 2.
Guest directed by Adam Heffernan, professor of theatre at Iowa
State University, the play features an all-female cast of Drake
students.
Heffernan describes "Fefu" as "a story of love, ideas and
friendship that soon reveals unexpected heartache, altered realities
and formula-defying plot developments."
The play takes place at Fefu's country house, where the characters
convene for an afternoon discussion of such topics as gender roles,
marriage and educational conventions.
"This show features eight young women, cocktails, lesbian love, a
shotgun, a bunny and a water fight," Heffernan said. "The audience will
find out how that all comes together in a 1935 New England estate."
Heffernan, who teaches acting, voice and theatre history at Iowa
State, said directing at Drake has been an exhilarating experience.
"I'm excited to be directing eight extremely talented actresses and collaborating with Drake student designers," he added.
"Fefu" was written by Maria Irene Fornes and premiered in 1977 at
the Relativity Media Lab in New York City. Fornes has written more than
two-dozen plays, including "The Conduct of Life," "Lolita in the
Garden" and "The Danube." She has received nine Obie Awards and a grant
from the Rockefeller Foundation.
Performances are set for 8 p.m. April 29 through May 1 and at 2
p.m. May 1 and May 2 in Studio 55 of the Harmon Fine Arts Center, 25th
Street and Carpenter Avenue.
This play contains mature content not intended for children.
Tickets are $5 for adults, $3 for students and senior citizens and
$1 for those with a Drake I.D. Tickets are available at the Fine Arts
Center Box Office, and reservations may be made in person or by calling
515-271-3841.