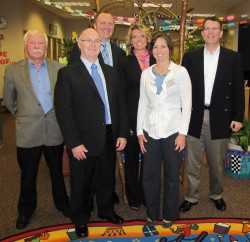 L to R: Jim McMahon – ETFO; Gene Lewis – ETFO; Jason Johnston – ETFO; Debra Cale – Reading/Lang Arts/ESL Coordinator-Johnston Schools; Dr. Jill Caton-Johnson – Drake Associate Prof; Chuck Sentstock – Dir. of Drake Extension Education.
On Friday April 22, the School of Education's International Advisory Committee held their spring meeting. Attending that meeting were officials from the Elementary Teachers Federation of Ontario (ETFO). Those in attendance were: General Secretary Gene Lewis, Executive Staff Member Jim McMahon and Executive Staff Member Jason Johnston.
The School of Education's Extension Education Department has partnered with ETFO for over 15 years to offer courses for Drake University Graduate Credit in the Ontario Province of Canada. This visit was prompted so ETFO could honor Jim McMahon for his past service to the Drake/ETFO Partnership. Jim is retiring from ETFO after many years of dedicated service. Jason Johnston has taken over as the new ETFO/Drake project cordinator.
While here, they visited Beaver Creek Elementary School in Johnston, IA. Drake University is offering the Iowa Reading Endorsement to a cohort of Johnston Community School District teachers and one of the endorsement courses is being taught by ETFO instructor, Janette Holmes from Oakville, Ontario. The ETFO officials enjoyed meeting officials at Beaver Creek Elementary School and are pleased to have one of their instructors part of this project.