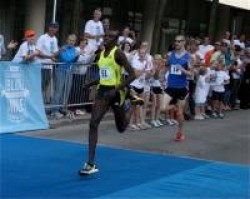 Boaz Lalang
The 101st running of the Drake Relays got off to a sterling start as Kenya's Boaz Lalang posted the second-fastest outdoor mile time in the world, running a personal best of 3 minutes 54.33 seconds to win the inaugural Grand Blue Mile Tuesday night.
Former Kansas State NCAA All-American Amy Mortimer captured the women's invitational championship in 4:34.91.
More than 1,600 participants, in six different divisions, ran the mile course in downtown Des Moines with the temperature at 72 degrees for the first race.
"I knew this mile would be good for me," said Lalang, who advanced to the semifinal round in the 800 in the 2008 Olympics. "I was feeling great in the last 200 (meters) and knew I was going to win but I didn't know it was going to be fast like that.
"Going in, I just wanted to break four minutes," added Lalang, who trains with two-time Olympic medalist Bernard Lagat in Tucson, Ariz.
Both Lalang and Lagat will run in the men's invitational mile as part of the Drake Relays at Drake Stadium Saturday.
"There is really no way to know how a road mile will play out and you can't know your pace, " said Andy McClary, who finished second. "I tried to get him (Boaz) but he had too much of a kick for me."
Peter van der Westhuizen of South Africa was third followed by Alex McClary, while Rob Meyers was fifth and Ben Rosario sixth.
Lauren Hagans was second in the women's invitational. Meghan Armstrong was third followed by Nicole Edwards, fourth; Laua Januszewski, fifth; Marie Schofer, sixth; and Racheal Marchand, seventh.
"I went out really hard and was pretty much in pain from 100 meters out," said Mortimer, who was ranked No. 9 in the U.S. in the 1,500 last year. "But I have been doing a lot of strength work lately so I was able to keep going. I loved it. You just can get out there and go for it with no pushing and shoving. And with my long stride I loved all that space."