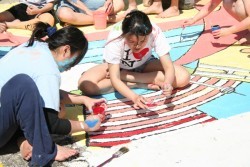 CONTACT: Tory Olson, 515-271-1834,
tory.olson@drake.edu
America's Athletic Classic will jump its way out of Drake Stadium
this year to bring the longstanding traditions and events of Drake
Relays to the Des Moines community.
Through "Relays 101," community members will learn about the
elements of Drake Relays, which will be held April 22-24, including the longtime tradition of Street Painting. In addition, Drake Relays co-sponsored the inaugural Grand Blue Mile community-street run downtown with Wellmark Blue Cross and Blue Shield.
"The theme's goal is to represent an introductory educational
experience," said Relays Director Brian Brown. "This year's off-campus
events stem from a vision for the 101st running of the Relays to
simulate the academic nuances of 101, as in English 101."
After Downtown Street Painting, athletic teams of local community members from businesses and organizations will take part in "Fake Relays," competing in various contests on Court Avenue between Third and Fourth streets.
Drake shares longtime tradition
Each year prior to the Relays, student organizations decorate a
square on the "painted street" on Drake's campus, along Carpenter
Avenue between 27th and 28th streets.
For the first time, community members will be able to help kick off
Relays in true Drake fashion at the inaugural Downtown Street Painting,
where local businesses and organizations will gather to paint Court
Avenue sidewalks between Third and Fourth streets.
The downtown event will be held Wednesday, April 21. Registered participants
will check in from 7:30 to 8:30 a.m. and judging will begin at 11:30
a.m.
Grand Blue Mile: Fitness 101
The Drake community also will be able to experience the fitness
element of the Relays by participating in the Grand Blue Mile, a
premier street run for all ages and abilities.
Olympians Suzy Favor-Hamilton and Steve Scott will guide the 1-mile
run, which was created to encourage and empower all individuals to lead
a healthier lifestyle.
The inaugural run will be held Tuesday, April 20, beginning at 17th
Street and finishing at Nollen Plaza just short of Third Street, all
along West Locust Street. Registration, which must be completed online, is $20 for adults and $15 for youth.
More about Drake Relays, special events
For more information on Drake Relays track and field events and meet times, visit the Web site. Ticket packages are available and the cost for adults is $85. For more information or to buy tickets, visit www.godrakebulldogs.com or call 515-271-3647.
A detailed schedule of Relays and special events, which are free and open to the public (unless noted), is listed below:
Tuesday, April 20

Grand Blue Mile Street Run, beginning at 17th and West
Locust Streets in downtown Des Moines; registration costs $20 for adult
and $15 for youth runners. A full schedule is available online.
Wednesday, April 21

"Fake Relays," featuring athletic teams from local
businesses and organizations competing in various contests, noon, Court
Avenue between Third and Fourth streets
Downtown Street
Painting, Court Avenue between Third and Fourth streets; rain location
is the atrium of Capital Square at Nollen Plaza
Women's Heptathlon Day 1, 12 p.m., Drake Stadium, 27th Street and Forest Avenue
Men's Decathlon, Day 1, 12:30 p.m., Drake Stadium
Relays Carnival, 4:30 to 7 p.m., Helmick Commons, north of the Olmsted Center parking lot at 28th Street and University Avenue
Thursday, April 22

Men's Decathlon Day 2, 9:30 a.m., Drake Stadium
Women's Heptathlon Day 2, 10 a.m., Drake Stadium
Drake Relays, 2:30 to 5:30 p.m., Drake Stadium
Distance Carnival, 3 to 6 p.m., Drake Stadium
High School Field Events, 3 p.m., Drake Stadium
Hall of Fame Induction and Reception, 5:45 to 8:30 p.m., Sheslow Auditorium in Old Main, 2507 University Ave.
Friday, April 23

Drake Relays, 8 a.m. to 4:25 p.m., Drake Stadium
"Relays Under the Lights," 5:30 to 8:45 p.m., Drake Stadium
Court
Avenue Relays Celebration, 7 p.m. to 1 a.m., Fourth Street and Court
Avenue, downtown Des Moines, with live music by HelloGoodbye.
Saturday, April 24

42nd Annual Drake Relays On the Road Race, 8 a.m. start for
8 kilometer and half-marathon races; registration and route information
is available online.
Drake Relays, 8 a.m. to 6 p.m., Drake Stadium