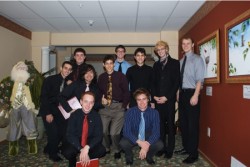 Phi Mu Alpha Sinfonia
CONTACT: Ryan Brodersen, 515-720-4397, ryan.brodersen@drake.edu
Members of Drake University music fraternities Phi Mu Alpha Sinfonia and Sigma Alpha Iota (SAI) will present an interactive musical opportunity to residents of Youth Emergency Services and Shelter (YESS) on Friday, April 30.
Drake students will present a series of vocal, percussive, rhythmic and instrumental sessions designed to introduce music-making to YESS residents up to 17 years of age.
The program will include a 90-minute musical session, in which YESS residents will make choral music and play games that challenge their rhythmic technique. They also will have the opportunity to experiment with brass, woodwind and other instruments.
Each fraternity frequently visits long-term care facilities, schools and similar organizations to share music. This is the first time in recent history that these fraternities have worked together on a service project.
"We are excited to collaborate with SAI to give residents of YESS a musical outlet," said junior Ryan Brodersen of Winterset, Iowa, president of Phi Mu Alpha Sinfonia at Drake. "The shelter lacks instruments and musical activities for its kids, so this will be an excellent opportunity to allow them to express themselves through sound."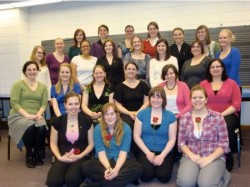 Sigma Alpha Iota
"SAI has conducted many service opportunities on its own in the past,
but working alongside another music fraternity has proven to be a
beneficial experience," said junior Laura Melone of Crystal Lake, Ill.,
president of SAI at Drake. "We have been able to learn from one another
and more effectively brainstorm what sorts of activities the kids would
enjoy."
The project coincides with the Drake choral performance of "Where You
Belong" that was held on April 18. The concert and series of speakers
and presentations on issues of home in Iowa aimed to bring key societal
issues to listeners through music and to elicit a spirit of service in
the community. The theme focused on the concept of home and explored
issues such as homelessness, refugee resettlement and safe and
affordable housing.
YESS is located at 918 SE 11th St. in Des Moines. Started in 1973, YESS
has developed into a residential facility for children through age 17.
The shelter provides safety, care and support for children as well as
shelter for 21 youth who have experienced domestic crises.
For more information, contact Ryan Brodersen at 515-720-4397 or ryan.brodersen@drake.edu.