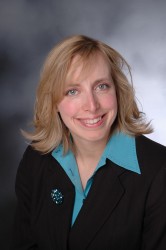 Melissa Murer Corrigan
Drake University has named alumna Melissa Murer Corrigan, executive director and CEO of the Pharmacy Technician Certification Board (PTCB), as the 2010 recipient of Drake's Lawrence C. and Delores M. Weaver Medal of Honor.
The award, which is the highest honor presented by Drake's College
of Pharmacy and Health Sciences, recognizes Corrigan's dedication and
service to Drake and to the pharmacy profession. Lawrence Weaver, a
1949 pharmacy graduate who is dean emeritus of the University of
Minnesota College of Pharmacy, and his wife, Delores, established the
Weaver Medal of Honor.
Corrigan, a 1989 graduate of the College of Pharmacy and Health Sciences, will receive the Weaver Medal, then give the annual Weaver Lecture in a ceremony starting at 2 p.m. in Sheslow Auditorium, Old Main, 2507 University Ave. A reception will follow from 3:30-5 p.m. in the Cowles Library Reading Room, 2725
University Ave.
The events are free and open to the public.
In her lecture, titled "Making a Difference," Corrigan will share experiences from building
PTCB and offer insight on the pharmacy profession. Today, most
Americans who either fill prescriptions at a local pharmacy or receive
medication in a hospital directly benefit from the board's technician
certification.
Since the Pharmacy Technician Certification Board's founding
in 1995, Corrigan has overseen its growth, operations and national
certification program. PTCB has certified more than 360,000 pharmacy
technicians nationwide and offers the most recognized pharmacy
technician certification program in the country.
Pharmacy technicians play a critical role in patient safety — they
prepare and dispense medications, maintain patient records and are
accountable to supervising pharmacists. The board offers the only
pharmacy technician certification that is endorsed by the National
Association of Boards of Pharmacy, the American Pharmacists Association
and the American Society of Health-System Pharmacists. More than 40
states regulate pharmacy technicians and the majority of those endorse
PTCB's certification.
Corrigan also was recognized at a special reception March 13, in Washington, D.C., at the annual meeting of the
American Pharmacists Association.
She served for six years on the College of Pharmacy and Health
Sciences National Advisory Council. She began her career as a staff
pharmacist at Walgreen Co. in Deerfield, Ill. She went on to work as
marketing research associate with the American Red Cross and project
manager for the American Pharmaceutical Association's Scope of Pharmacy
Practice project.
A recognized leader in credentialing and health care certification,
Corrigan received the National Organization for Competency Assurance's
Certification Industry Leadership Award in 2008. She is president-elect
for the Institute for Credentialing Excellence, formerly the National
Organization for Competency Assurance, for which she served on the
Board of Directors.
She also served for three years as president of the
Board of Directors for the Council on Credentialing Pharmacy. In
addition,
Corrigan was named one of six emerging leaders making a difference
in health-system pharmacy by the Hospital Pharmacist Report in 2000.
She has written and co-authored 20 works for publications such
as Pharmacy Practice for Technicians, American Journal of Health-System
Pharmacy and the Journal of the American Pharmaceutical Association,
among others. She also has given more than 100 presentations at
international, national and state professional meetings and
conferences.