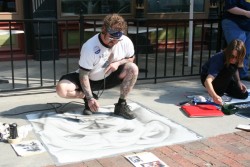 A sidewalk artist uses an air brush to put the finishing touches on a bulldog's face.
More than 200 people joined in the inaugural Drake Relays Downtown Street Painting this morning on the sidewalks lining Court Avenue between Third and Fourth streets.
They decorated 41 squares with paintings depicting the "Relays 101" theme and incorporating the logos and slogans of the local businesses and organizations they were representing.
In the competition for the best square, Pioneer Communications won the corporate division and the Repertory Theater of Iowa won the nonprofit division.
The judging was conducted by a panel of five that included four Drake graduates: Judy Bradshaw, chief of the Des Moines Police Department; Andy Fales of WHO-TV; Van Harden of WHO Radio; and John P. Smith, vice president of alumni and development at Drake.
The panel also included Drake Athletic Director Sandy Hatfield Clubb, who holds a bachelor's degree and a master's degree from the University of Texas at El Paso. She described the event as "a great addition to Relays."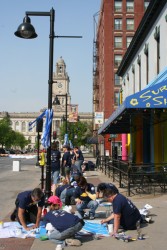 Painters line Court Avenue in front of the Polk County Courthouse.
"The judges were looking for creativity," Bradshaw said, "and we saw some really great pieces of art."
Harden said he was pleased to see the high level of participation by Des Moines-area businesses and nonprofit groups.
"It couldn't have been done any other place besides Des Moines," he
added. "I used to live in Jewett and the students used to paint the
street right outside the dorm. This was much more professional and I
was really impressed."
Each year prior to the Relays, student organizations decorate a
square on the "painted street" in the center of Drake's campus, along
Carpenter Avenue between 27th and 28th streets. This year's Campus
Street Painting took place on Friday.
Blake Campbell, director of Drake's alumni and parent relations,
said he looks for Downtown Street Painting to become an annual Relays
event, just like Campus Street Painting, a tradition that dates back to
the 1970s.
While most students apply more paint to their fellow students than to the "painted street," the alumni and friends engaged in Downtown Street Painting stayed within the lines of the four-foot squares along Court Avenue.