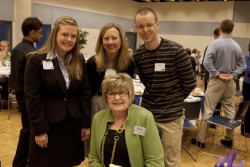 School of Education Dean Jan McMahill, center, gathers with (from left) student Kristen Haynes, staff member Andrea Hansen and student Nathan Baggett.
Nearly 100 students enjoyed the chance to meet and thank the
generous donors who are funding their scholarships at the University's
inaugural Scholarship Luncheon last week.
John Smith, vice president of alumni and development, welcomed
everyone to the lunch in Parents Hall at Olmsted Center. "We wanted to
gather our generous scholarship donors and provide them with an
opportunity to meet the student or students they are supporting," Smith
said.
"It is the support of those of you here in this room," he added,
"and the thousands of others who make giving to Drake an annual
priority that help establish a culture at Drake where philanthropy is
important and makes a difference."
Smith then introduced Alex Maltsev, a sophomore from Fairfield,
Iowa, who said he was on the brink of taking out an additional student
loan in order to return to Drake last August. The prospect made him
uneasy and he worried about how much debt he will have to repay when he
graduates.
Then he received a call from Drake's financial aid office,
informing him that he was being offered a Longfield Scholarship because
of his accomplishments as a first-year student.
"I was ecstatic!" recalled Maltsev, who is majoring in marketing,
international business and management. "I knew then that I did not have
to take out another loan, which was a great relief."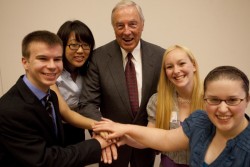 Alumnus William Longfield huddles with the Longfield Scholars (from left): Alex Maltsev, Stella Yi, Breanna Thaden and Claire Pearson.
William P. Longfield, a 1960 Drake graduate, and his wife, Nancy, who also attended Drake, endowed the Longfield Scholarship program with a very generous gift in 2009.
The program is providing renewable scholarships for Maltsev and three other students this academic year. Over the next two years, it will expand to provide a total of eight perpetual scholarships.
"It's amazing that there are people in this world who are willing to give up their own money to help complete strangers get an education," Maltsev said.
"I am very thankful for Mr. and Mrs. Longfield's generosity, and I know that the students in the audience — and those who couldn't be with us today — are thankful for the support of everyone in this room."
William Longfield, who spoke next at the lunch, described his successful career in management of health-care products and services. After retiring in 2005 as chairman, president and CEO of C.R. Bards Inc., he became chairman of Atlantic Health and a director of several public companies.
"I consider myself very lucky to have gone to school here at Drake," he said. "I grew up in Chicago and my father, who ran a successful grocery business, insisted I go to college. I was the first one in my family to graduate from high school and the first to go to college.
"I didn't know what to expect from college, but after my first visit to Drake, I felt certain that Drake would give me the support I needed as I had no one at home who could. It was a decision I have never regretted. Drake taught me the importance of knowledge and here I learned the value of friends and friendships. I also acquired a taste for leadership — all traits that have served me well."
When Drake President David Maxwell asked the Longfields to become major supporters of scholarships for Drake students, he found them quite receptive.
"Nancy and I both attended Drake and we liked it here," William Longfield said. "We both also feel very strongly that you should give back some of what you have to help others. To us, investing in the education of the youth of this country is the best investment we could make and we felt there was no better place to invest than here at the place that we both love and admire.
"That's the reason behind our funding these scholarships and why I am so pleased to meet the recipients today. I want to thank those of you here who are doing so much to assist the scholarship recipients, like Alex and others, who need us to help them achieve their educational goals. I also want to congratulate all the recipients on winning these scholarships and urge you to make the most of them."