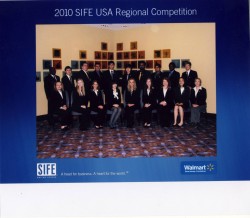 CONTACT: Tory Olson, 515-271-1834,
tory.olson@drake.edu
The Drake Students in Free Enterprise (SIFE) team won the
championship in the SIFE Regional Competition in Chicago on April 8.
The team will advance to the National SIFE Competition in Minneapolis
this May.
The Drake team competed against about 40 schools by presenting the
projects it has completed during the 2009/2010 academic year. The
presentation highlighted the results of the projects and the many lives
that the Drake SIFE team has touched. These include fellow Drake
students, local elementary and high school students, community members,
and those in need in other countries around the world.
One example was the "Water the World Benefit Concert" that raised
money to purchase eight water purifiers that will provide needed water
for up to 40,000 individuals around the world.
"We have been particularly successful this year because of the hard
work our entire team put into a wider range of projects that impacted
even more lives than in previous years," said Wole Aluko-Olokun,
co-president of Drake SIFE. "The regional competition is always a great
learning experience and an opportunity to showcase our work while being
able to draw new ideas for future projects from other teams who also
present their various projects in a competitive atmosphere.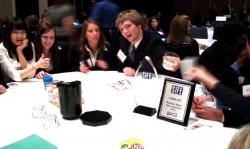 Drake students are a finalist for the SIFE Business Ethics Topic Competition.
In addition to being named Regional Champions, the Drake SIFE team
was also named as one of the top 20 finalists in the nation for the
SIFE Business Ethics Topic Competition. The team has advanced to the
national level in this competition, in which their "Business Ethics
Panel" project could be chosen as the top Business Ethics project in
the nation.
Faculty advisers Dorothy Pisarski, assistant professor advertising,
and Deb Bishop, assistant professor of practice of management,
accompanied the students to the competition.
"I am incredibly proud of the SIFE team's accomplishments this
year," Bishop said. "The competition is a tremendous experience for the
team but more importantly, it is recognition for their efforts. They
are definitely a team with a 'head for business and a heart for the
world."