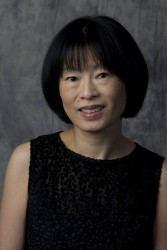 Rika Uchida, assistant professor of piano and theory at Drake University, will perform music by Claude Debussy in a faculty recital on Sunday, April 11.
The free, public concert will begin at 8 p.m. on the Jordan Stage in Sheslow Auditorium in Old Main, 2507 University Ave.
Uchida will perform Debussy's "Estampes" and selections from "Preludes." She will also be joined by Clarence Padilla, Drake professor and department chair of music, on clarinet, and Katrin Stamatis, teaching artist of violin and viola, on violin.
The program also will include Debussy's "Premiere Rhapsody" for clarinet and piano, one of his most pleasing pieces, and his last work, "Sonata" for violin and piano, written in 1917.
Uchida, who joined Drake in 2005 after teaching at the College of Wooster in Ohio and the University of Oregon, began her musical training at the age of three in Kawasaki, Japan.
She originally came to the United States to study psychology, but pianist Dean Kramer, one of the last students of Vladimir Horowitz, inspired her to change her career path.
Uchida holds a master's degree in music theory and Doctor of Musical Arts in Piano Performance from the University of Oregon, where she studied with Kramer and Victor Steinhardt. An expert in music from the turn of the century, particularly Debussy's solo piano compositions, she is currently giving a national tour of lectures, recitals and master classes on Debussy's piano music.



She won the Outstanding Keyboardist Award for her performance of Rachmaninoff's Third Piano Concerto with the University Symphony. She has also studied with John Browning, Karl Ulrich Schnabel and Daniel Pollack.
For more information, contact Drake's Department of Music at 515-271-3975, or visit https://wwww.drake.edu/artsci/Music_Dept/index.html