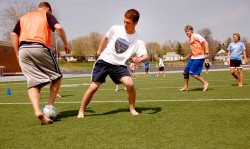 Students vie for the ball. Photo by Connor McCourtney, The Times-Delphic.
More than 100 Drake students participated in the Lose the Shoes soccer tournament on Sunday, April 11, to raise money for HIV/AIDS education in Africa.
Students organized 15 co-ed teams to participate in 10-minute games. The teams consisted of members from residence halls, fraternities, the Student Senate and sports teams. Money was raised through an entry fee of $10 and various raffles throughout the day.
The fundraiser earned more than $1,000 for HIV/AIDS education in sub-Saharan Africa. The money will help children attend education programs that are taught by role models in their communities, including soccer stars, coaches and teachers.
Read more about the tournament in a story in today's Des Moines Register.