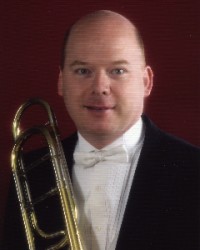 Peter Ellefson
CONTACT: Tory Olson, 515-271-1834, tory.olson@drake.edu
Peter Ellefson, trombonist and professor of music at Indiana University in Bloomington, Ind., will perform a guest recital on Saturday, April 10.
The free, public performance will begin at 8 p.m. in the Performing Arts Hall of the Harmon Fine Arts Center, 2505 Carpenter Ave.
His visit is part of a "Drake University Trombone Weekend 2010. The weekend's events are in conjunction with other trombone events held all around the world as part of the International Trombone Week.
Ellefson, who has a keen interest in chamber music and solo literature, will play a variety of pieces on trombone. He has extensive knowledge in repertoire of both orchestral and chamber music, and is well versed in commercial music and jazz.
He performs regularly with orchestras such as the Chicago Symphony, New York Philharmonic and Seattle Symphony. He has made dozens of recordings playing trombone, euphonium and bass trumpet. He also served as principal trombone for the Seattle Symphony from 1992 until 2002.
Ellefson holds a Master of Music from Northwestern University. In addition to teaching and Indiana, he teaches at Northwestern University, Roosevelt University and has taught at the University of Costa Rica and the Music Academy of the West in Santa Barbara, Calif.
For more information, contact Drake's Department of Music at 515-271-3975, or visit the Web site.