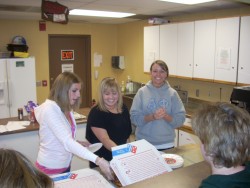 Drake students Cynthia Graham, Katie Goodwin and Lea Wearmout serve dinner to youth at Reggie's Place.
Twenty-eight Drake University students are taking learning off campus to the Iowa Homeless Youth Centers to help young adults and explore social problems in Drake's backyard.
"The experiences I've had are unforgettable," said Jeremy David, a first-year law, politics and society major from Kansas City, Kan. "The program has allowed me to leave my ivory tower and go beyond my classroom learning to investigate social problems first-hand."
David and his classmates are each volunteering 26.5 hours and keeping a journal of their experiences as part of the Social Problems course taught by Laurie Linhart, a lecturer in sociology at Drake.
Their service-learning hours are spent getting to know and working with homeless youth ages 18 and younger, who are part of a group of approximately 2,500 homeless youth in Des Moines.
"My thinking about homelessness [among other social problems] will now be more fully informed, and if I do pursue a career in policy making, this is especially critical," David said.
So far, David said he has helped at the food pantry, assisted a heroin addict in seeking rehab and spent time with homeless adolescents at two shelters, among other projects.
Drake students serve as role models for the young adults and work with them through programs and activities at Reggie's Place for homeless youth and the Buchanan House, a long-term residential facility for previously homeless youth. Volunteers also work at the Des Moines Area Religious Council's Emergency Food Pantry, organizing shelves, packaging food and preparing food for thousands of people each month.
In addition, students babysit children of women who are attending classes on life skills while living at the Lighthouse, a long-term residential facility for homeless young women with children. Student volunteers enable the women to attend these classes on parenting and life skills.
"The Drake volunteers have provided us with time, energy and, most of all, support," said Toni Nicol, Iowa Homeless Youth Centers volunteer and events coordinator. "Their contributions are greatly appreciated!"