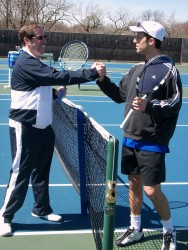 President Maxwell and Zirkin congratulate one another on a good exhibition.
On Saturday, April 3, a very special guest took the court at halftime as the Drake men's tennis team took on Missouri Valley Conference rival Wichita State. After the doubles matches were finished, Drake President David Maxwell competed in an exhibition match against Drake Assistant Men's Tennis Coach Maor Zirkin.
Marketing interns for the men's squad contacted President Maxwell and Zirkin and set up the match to give the spectators a good show.
"Maor did a very good job of trying to make me look good," President Maxwell joked. "He was hitting nice, deep balls and letting me make my own mistakes!"
President Maxwell is a regular tennis player, as he hits frequently with members of the women's tennis team, but this was his first time playing Zirkin.
"I've never done an exhibition match with everyone watching," Maxwell said. "It's intimidating!"
Zirkin, who also is Drake's all-time win leader in tennis, was looking forward to getting a chance to play the President, as members of the tennis team knew of his tennis background.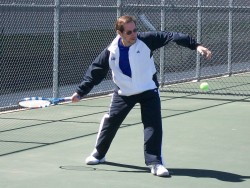 President Maxwell returns a ball to Maor Zirkin.
"I had a lot of fun out there playing with the president," Zirkin said.
"It's great to see that he is a fan of our sport and a big supporter of
Drake athletics."
Zirkin took an early lead in the exhibition match, breaking out to a
6-0 lead in the 7-point tiebreaker. As defeat loomed on the horizon,
President Maxwell found his groove as he worked Zirkin around the court
and rattled off 3 straight points as the students in the crowd cheered
him on. Zirkin hung tough though, winning the final point to take the
tiebreaker 7-4.
President Maxwell stayed for the entire match against Wichita State,
and was impressed with the young Drake team led by first-year Head
Coach Jimmy Borendame.
"I wish I could go to more [matches]," he said. "I'm very impressed with their level of play and with the team's commitment."