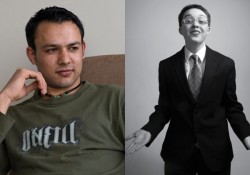 Mesbah Habibi, left, and Calvin Delius were the subjects of the Drake stories that won Hearst Awards.
Two Drake University journalism students are among a group of 10 winners for profile writing in the 50th annual William Randolph Hearst Foundation's Journalism Awards Program.
The Drake students — Maggie McMahon and Erin Strecker — competed with 115 students from 67 universities in the personality/profile writing category. Drake is among a group of 110 eligible undergraduate journalism programs at universities across the nation.
"I'm so proud of the work our students are doing," said Lori Blachford, the Peggy Fisher and Larry Stelter chair of magazine journalism. "To gain this kind of national recognition is really a testament to their dedication to quality journalism. We have had Hearst winners in the past, but never two in one year!"
McMahon, a 2009 Drake graduate from Two Harbors, Minn., and Strecker, a junior magazine major from Libertyville, Ill., both won $500 scholarships as part of their awards.
An article in the Drake student-produced Think magazine, McMahon's "Seeking Asylum" profiled Mesbah Habibi, an Afghan student who fled to Canada after coming to the United States as an exchange student. Rather than return to Afghanistan as his U.S. exchange was coming to an end, Habibi sought and was granted asylum in Canada, taking a risk that he may never see his family again.
"Mesbah Habibi's story was an important one to share," McMahon said. "It shows another aspect of how the events in Afghanistan are impacting people. To have the article recognized by the Hearst Foundation is wonderful because it shows that his story matters to others as well."
Strecker's story titled "In Transition," was published in the spring 2009 issue of Drake Magazine for which Strecker now serves as editor in chief. The article is a profile about transgendered Drake student Calvin Delius, a junior English and religion major from Johnston, Iowa. The story also explored the struggles LGBTQ college students face.
"I'm so proud to have my work honored in this way," Strecker said. "This story meant a lot to me personally, so it's nice that others have appreciated it."
Students' work was critiqued by this year's panel of judges:

Jeff Cohen, executive vice president and editor, Houston Chronicle
Peter Bhatia, editor, The Oregonian, Portland
Jennifer Sizemore, vice president/editor in chief, MSNBC.com and executive producer, NBC News
Other winners include students from the University of Montana, University of Missouri, Indiana University, Arizona State University, Michigan State University, Northwestern University and Colorado State University.
The Hearst Awards Program is conducted under the auspices of accredited schools of the Association of Schools of Journalism and Mass Communication and funded and administered by the W.R. Hearst Foundation.
It consists of six monthly writing, three photojournalism and four broadcast news competitions and one multimedia competition, with championship finals in all divisions except multimedia. The program awards up to $550,000 in scholarships and grants annually.
Read more about the contests and winners online at www.hearstawards.org.