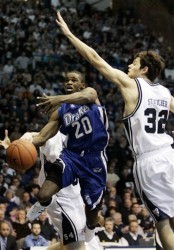 Josh Young
INDIANAPOLIS, IND. — Senior guard Josh Young (Lawton, Okla.) wasn't able to lead the Drake basketball team to the NCAA Final Four. But he's closing out his collegiate career by attending the Final Four festivities as one of 10 finalists for the Lowe's Senior Class Award in College Basketball.
Young was introduced, along with the other finalists, in between open practice sessions before the 30,000 fans Friday at Lucas Oil Stadium.
"It is a honor to be a finalist for such a prestigious award," said Young, who will graduate from Drake this May as the school's career leader in scoring (1,789 points), three-point baskets (255) and free throws made (442).
Young was one of 30 nationwide candidates who were announced for the award last Nov. 4.
To be eligible for the award, a student-athlete must have notable achievements in four areas of excellence – classroom, character, community and competition.
An acronym for Celebrating Loyalty and Achievement for Staying in School, the Lowe's Senior CLASS Award focuses on the total student-athlete and encourages students to use their platform in athletics to make a positive impact as leaders in their communities.
Young was then one of 10 finalists selected on Feb. 3 and he stood in third place in nation-wide online voting prior to the Final Four.
Other finalists for the award include three players who have led their respective teams to the Final Four: Duke guard Jon Scheyer; West Virginia forward Da'Sean Butler and Michigan State guard Raymar Morgan.
"There are 10 great athletes on the list who are an elite group of players, so to finish third in the voting tells you about the great support we get in the Drake community," Young added.
Young arrived in Indianapolis Thursday night and attended the State Farm College Slam Dunk and Three-Point Championship at the Indiana Convention Center. He then participated in a Lowe's HERO Build community service project at Pike High School Friday morning before attending the Final Four practice sessions where he was recognized.
"It has been a lot of fun so far and I've had a great time," Young added.
Young's picture is adorned on a 20-foot high banner on a building in downtown Indianapolis.
"That was pretty sweet when I saw that," said Young.
Young flew to Rapid City, S.D. Saturday where he will attend the wedding of senior teammate Adam Templeton.