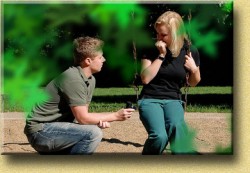 The film follows a young couple whose friend videotapes the fun moments leading up to their wedding.
On the heels of a February Chicago screening and a Starz Denver Film Festival world premiere, Drake University alumnus Sean Gannon's feature film "Something Blue" will make its Des Moines premiere near Drake's campus Sunday, April 18.
Gannon and select cast members will attend a free screening and hold a question-and-answer session for Drake students, faculty and staff at the Varsity Theater, 1207 25th St. in Des Moines. The free screening will begin at 4 p.m. A general admission screening for Drake alumni and the public will follow at 7 p.m.
"Something Blue," which will also screen on April 10 at the Cedar Rapids Independent Film Festival, was written, produced and directed by Gannon, a 1991 Drake graduate now living in Los Angeles.
The film follows a young couple that has recruited a friend to videotape the fun moments leading up to their wedding. When the groom's family starts treating the bride badly and he fails to stand up for her, the lighthearted video becomes an unintentional documentary of a relationship in jeopardy.
Gannon, who is originally from Bondurant, Iowa, set and shot the film entirely in the Des Moines area over the course of two weeks in 2006.
"I had been writing screenplays for a few years but wanted to get something made," Gannon said.
"The time seemed right and my friend Pat Boddy, one of my fellow co-founders of the Iowa Scriptwriters Alliance, volunteered to scout locations and coordinate casting sessions in Iowa. I wrote the script and handled the rest of preproduction. We went from having a concept of the film to having it in the can in a mere nine months."
Many of the film's cast and crew have Drake ties. "I'm very thankful for everything I learned at Drake and for the lifelong friendships that began there. A couple of my dearest Drake friends play supporting roles and the leads are also Drake grads," Gannon said.
The Drake cast and crew members are:

William Coleman, professor emeritus of theatre arts, who serves as casting director
Mike Kreissl, FA'02, lead actor
Kate Mortimer Kreissl, FA'03, lead actor
Bridget Flanery, FA'92, actor
Laureen Vignovich, FA'94, actor
Jeff Daniel, JO'07, actor
Richard Golfin III, BN'07, actor
Patrick Kelly, FA'86, cinematography consultant