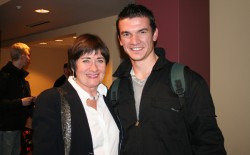 Jane Olson and Drake student Kenan Malicevic compare experiences in Bosnia.
Jane Olson, chair of the International Board of Human Rights Watch, has traveled to dozens of war zones over the last 30 years to help protect civilians and alleviate their suffering.
She's met with peasants who dug pits so their children would have places to hide when their villages came under fire during the Contra Wars in Nicaragua and El Salvador. She donned a Kevlar vest while crossing dangerous areas of the former Yugoslavia to interview rape victims during the ethnic cleansing of Bosnia.
Olson shared some of these experiences when she spent a day at Drake in March. She gave a public lecture on "Survivorship Stories from 30 Years of War." She also met with faculty and staff, had lunch with students in the Global Ambassador Program and addressed a class on World Politics.
It was a homecoming of sorts for Olson, even though she is not a Drake graduate. Her role as a valued member of the Drake family was evident in the warm embraces she received from longtime friends, such as athletic historian Paul Morrison and retired vice president Don Adams.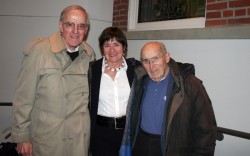 Jane Olson poses for a snapshot with Don Adams, left, and Paul Morrison.
The Drake connection



A
native of Denison, Iowa, Olson is married to Ronald Olson, BN'63, who
is the lead partner in the Los Angeles law firm of Munger, Tolles &
Olson LLP.
After attending Drake on a football scholarship, he
earned a Juris Doctor degree from the University of Michigan and a
Diploma in Law from Oxford University. His law partners include former
Secretary of State Warren Christopher and Olson has represented and
served as a member of the Council on Foreign Relations.
In introducing Jane Olson at her public lecture in
Sheslow Auditorium, Drake President David Maxwell described her and her
husband as "the quintessential responsible global citizens that Drake
strives to develop through its mission statement and programs."

Raising awareness through personal stories



During
her lecture, Olson said it's often difficult for people to grasp the
large-scale suffering that takes place in war-torn countries. She finds
that people best connect when she tells short, personal stories about
the extraordinary survivors — not victims — she's met on her travels.
Her goal, she said, is "to impact the audience members in
the heart, to make them care and to get them to join in the efforts to
end injustice around the world."
There is much to be learned from those who have lost
everything — their families, their homes, their health and their
livelihoods, Olson said.
"Despite devastating losses, these survivors demonstrate
the strength and resilience of the human spirit," she added. "They are
the inspiration that keeps me going and believing that one day we will
create a better world."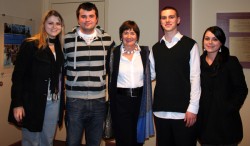 Jane Olson gathers with a group of Drake students from Bosnia.
The importance of hope and faith
She
described meeting a girl who had been tending sheep with her
grandmother when they were caught in shelling during a border dispute in
Azerbaijan. As they fled to safety, the girl stepped on a landmine that
exploded. To save her life, headscarves were employed as tourniquets
and a field medic amputated both of her legs.
Olson later watched as the girl was fitted for
prosthetic limbs. "It was a great day for her and her grandmother," she
said. "I'll never forget how she put on her new legs and smiled."
The hope and faith represented in that smile are
essential elements in helping survivors overcome the ravages of war,
Olson said. She then defined those words this way:
"Hope is the ability to listen to the music of the future. Faith is the courage to dance to it in the present."