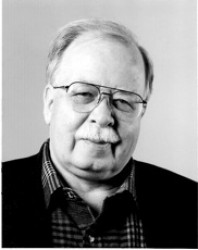 William S.E. Coleman
Playwright William S. E. Coleman, professor emeritus of theatre arts, has written two plays that will open on Friday, April 9 — one Off-Broadway in New York City and the other in Australia.
Coleman's one-act play, "Lebensraum," has been selected in an international call for plays for performance Off-Broadway in EndTimes Productions' Vignettes for the Apocalypse, 2010. Performances will run through April 17 at the Red Room Theater, 85 E. Fourth St., New York City.
Coleman's play, influenced by the famous Marx Brothers stateroom scene in "A Night at the Opera" and Jonathan Swift's "A Modest Proposal," is receiving its New York premiere. It is a satirical look at overpopulation in a tiny high-rise apartment that measures 4 feet by 8 feet and is zoned for eight occupants.
Martin Denton, critic for NYTheatre.com, wrote that "EndTimes" is "…pushing Theatre to the edge fearlessly and perhaps even wantonly … unlike anything else that's playing on stage in New York at the moment."
In another international call for plays, Coleman's one-act comedy, "Border Lines," was one of seven plays selected for production in the Blacktown City Community Theatre's annual 4 Shorts Plus Festival from plays submitted around the Pacific rim and beyond. It will be performed in Blacktown, Sydney, Australia, from April 9 to April 17.
This is the second time Coleman has had a play produced at Blacktown.
In "Border Lines," the Territorial Imperative and a need for Lebensraum run amuck when four apartment mates, living in cramped living quarters, start defining their spaces. Coleman's play, using the jargon of diplomacy and international politics, is a satiric microcosm of current world tensions.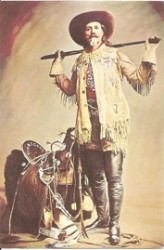 A postcard depiction of Buffalo Bill Cody.
In addition to writing plays, Coleman, 83, is teaching a class this
spring for Drake's RaySociety titled Buffalo Bill's Wild West: The
Synthesis of a Legend.
The class, which began April 1 and continues through April 22,
traces the life and career of William F. Cody with the aid of rare
archival aural and visual materials.
Coleman views Buffalo Bill as a genuine western hero who made his
first step toward being a legend when fictional accounts of his frontier
feats appeared in half-dime and dime novels. Cody had the rare
opportunity of creating his own legend, first as a stage actor in Border
Dramas, then with his spectacular exhibition, Buffalo Bill's Wild West
in performances throughout the United States, Canada, Great Britain and
Western Europe.
For more information about this class and Coleman's other
activities, visit his Web site.