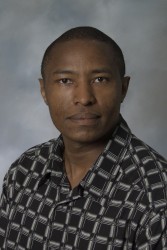 John Gitua
CONTACT: Tory Olson, 515-271-1834, tory.olson@drake.edu
John Gitua, assistant professor of organic and organometallic chemistry at Drake University, will present a lecture on malaria's increasing resistance to antimalarial drugs on Friday, April 9.
The free, public lecture, sponsored by Drake University's Science Collaborative Institute, will begin at noon in room 206 of Olin Hall, 1344 27th St.
Gitua's lecture will focus on malaria, which causes between one and two million deaths a year, the majority of which are children. Drug-resistant malaria is responsible for the spread of the disease to new areas and re-emergence of the disease in areas where it had once been eradicated.
In 1996, the World Health Organization (WHO) prepared a new protocol for assessing antimalarial drug efficacy in high transmission areas.
"Several updates of the protocol have been carried out based on feedback from the respective countries and scientific recommendations," said Gitua. "Despite all that effort, the spread of malaria in endemic countries has continued in an unabated trend."
He will explore some of the challenges that have impeded the eradication of malaria, the attempted scientific approach towards its treatment, and the reasons leading to the continued drug inefficacy and resistance. Gitua will also discuss the overall social and economic impact on society by the spread of malaria.
Gitua holds a Bachelor of Science degree from Egerton University in Njoro, Kenya, and a doctoral degree from State University of New York at Binghamton. He joined the Drake faculty in 2005 and won the non- College of Pharmacy and Health Sciences Teacher of the Year Award in 2008 and 2009.
For more information, contact Maria Bohorquez, department chair and professor of chemistry, at 515-271-2595 or maria.bohorquez@drake.edu.