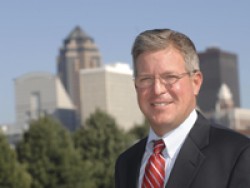 Greg Edwards
Greg Edwards, president and CEO of Greater Des Moines Convention and Visitors Bureau will speak as part of the "Let's DU Lunch" series on Wednesday, April 7.
The talk will be held at AllPlay, 615 Third Street in downtown Des Moines and is open to the public. Networking begins at 11:30 a.m., followed by lunch and the program at noon.
Edwards has led the destination marketing efforts in Des Moines for a decade. He has nearly 30 years experience in the hospitality field and has also managed convention and visitors bureaus in Illinois and Kansas.
Edwards reorganized the Des Moines Area Sports Commission and has tripled the amount of convention and event bookings during his tenure.
The luncheon costs $15, with a special young professional's rate of $12 for those under 35. Reservations are highly recommended by March 31 due to limited seating.
Drake University and the Greater Des Moines Partnership sponsor the "Let's DU Lunch" series.
For more information or to make reservations, contact the Office of Alumni and Parent Relations at 515-271-3152.