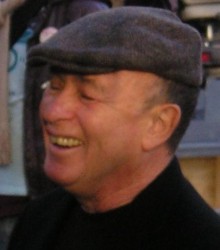 Allen Scult
CONTACT: Tory Olson, 515-271-1834, tory.olson@drake.edu
The future of philosophy of religion will be the topic for a lecture at Drake University by Allen Scult, professor emeritus of philosophy and rhetoric, on Thursday, April 1.
The lecture, "Between Past and Future: Authentic Moments in the Philosophy of Religion," will begin at 7 p.m. in the Cowles Library Reading Room, 2725 University Ave.
Scult's talk will explore how philosophers of religion should face an uncertain future. He will argue the future of the discipline will thrive not by adapting to shifting circumstances, but by being true to itself.
The authenticity of the philosophy of religion arises out of moments in the past that can be repeated in such a way that their insights can be experienced again. Authentic practice is taken from the past to become a teachable way of philosophizing in the present.
Scult taught at Drake from 1975-2009 and is presently adjunct professor of philosophy at American University in Washington, D.C. He also has taught at the University of Southern California, Iowa State University and Charles University in Prague.
His areas of interest include phenomenology, hermeneutics, philosophy of religion, continental philosophy and the relationship between philosophy and rhetoric.
Scult's book publications include "Being Jewish/Reading Heidegger: An Ontological Encounter" and "Rhetoric and Biblical Interpretation," which he co-wrote with Drake Professor Emeritus of Religion Dale Patrick.
The lecture, which is the third in a series about philosophy of religion, is sponsored by the Drake Center for the Humanities, the Department of Philosophy and Religion, the Center for Global Citizenship, the Honors Program and the College of Arts and Sciences.
For more information, contact Tim Knepper, associate professor of philosophy, at 515-271-2167 or tim.knepper@drake.edu.