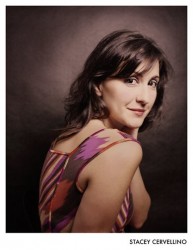 Drake University's Department of Theatre Arts will sponsor three master classes in action theatre, taught by theatre movement expert Stacey Cervellino, of the American Academy of Dramatic Art in New York, N.Y.
Action theatre is an improvisational physical theater training and performance method that incorporates disciplined exploration of exercises that lead to increased communication skills.
The free, public classes, which will all be held in the Performing Arts Hall of the Harmon Fine Arts Center, 2505 Carpenter Ave., began Sunday, March 28. The additional classes are scheduled for the following times:

Monday, March 29, 6-9 p.m.
Wednesday, March 31, 6-9 p.m.
Each class will cover the action theatre method, but instruction topics will vary. Participants are invited to attend any one or more of the classes.
In the class, participants will explore movement and the relationship of movement to sound and text. They will learn how to improvise with movement, sound and text, how to use Action Theater to work with memorized text and how to use Action Theater to create original work.
"Through various movement exercises, I hope to expand your awareness, stimulate your imagination, strengthen your capacity for feeling and develop your skills or expression," said Cervellino, who has studied action theatre with its creator Ruth Zaporah for more than 10 years.
"Action theatre will enable you to inhabit your bodies, deconstruct your behavior, and notice the details of what you've got."