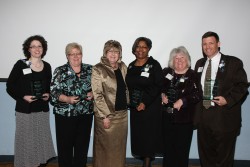 Five outstanding educators and the graduating class of 2010 were honored during the Believers and Achievers Banquet, the Drake University School of Education's annual Alumni Awards and Senior Recognition Dinner, on Tuesday, Mar. 9.
More than 170 people attended the event, which also featured a presentation by Tom Drake, Instructor of Student Teaching, about past, present and future teachers produced by Drake's School of Education. He ended his remarks with the news that students from this year's class would be teaching not only in the United States, but also England, China, Germany, Egypt, Hong Kong, Kuwait, and South Korea.
The five outstanding educators honored were:
• Stephaney Jones-Vo, ESL/Diversity Consultant for Heartland Area Education Association. Jones-Vo is also a former high school teacher and school district administrator and is a leader in the field of English as a Second Language Education. A resident of Johnston, IA, Jones-Vo received her undergraduate degree from Drake.
• Shannon Johnson, is a classroom teacher for the West Des Moines Community School District. Johnson is also a member of Drake's Teachers as Partners program in which she mentors future teachers. A resident of Urbandale, Johnson received her undergraduate and masters degrees form Drake.
• Twyla Woods, Chief of Staff and Student Affairs for Des Moines Public Schools. Woods' career with Des Moines Schools has taken her from teacher assistant to teacher, to elementary principal, to Deputy Director of Elementary and Early Childhood Programs, to Executive Director of Human Resources, and now her current position. She as also been an adjunct professor for Drake. A resident of Des Moines, Woods received her undergraduate, masters, and specialist degrees from Drake.
• Barbara Parker, Director of The Rehabilitation Program at Maryville University in St. Louis, MO. Parker developed award-winning programs for people transitioning from prison to community life and for welfare recipients entering the job market. A resident of Belleville, IL, Parker received her undergraduate and masters degrees from Drake.
• Robert Stouffer, Superintendent of Des Moines Christian School. Stouffer is a former teacher, coach, and principal. He has taught Drake Education Leadership courses for the past 14 years and is routinely one of the students' favorite instructors. Stouffer lives in Urbandale, IA.