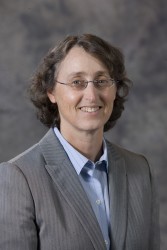 Maura Strassberg
Maura Strassberg, professor of law at Drake University, will present a feminist and Hegelian account of the legal function of marriage as part of the spring Drake Center for the Humanities Colloquium Series on Friday, March 26.
The free public presentation, "Feminist and Hegelian Perspectives on the Legal Status of Polygamy, Polyamory and Same-Sex Marriage" will be held from 3:30-5 p.m. in the Honors Lounge of Medbury Hall, 2730 Forest Ave.
Strassberg will present her legal research on traditional marriage, patriarchal polygamy, new-age polyamory and same-sex marriage. Her topic was developed in response to claims that recognition of same-sex marriage would require decriminalization and legitimation of all kinds of polygamous marriages.
Her perspective both explains the constitutional status and function of monogamous marriage in the United States and allows an evaluation of claims that polygamy, polyamory and same-sex marriage should have the same constitutional status.
Focusing on fundamentalist Mormons as the primary American form of patriarchal polygamy, she argues that significant constitutional differences can be found between this practice and same-sex marriage. She argues these differences are enough to justify legalizing same-sex marriage while continuing to treat polygamy as a crime.
On the other hand, Strassberg will present significant distinctions between larger and smaller polyamorous marriages that could justify legal tolerance if not recognition of smaller marriages while suggesting that larger marriages pose considerable grounds for concern.
Strassberg, who came to Drake in 1991 from private legal practice in Boston, holds her law degree from Columbia University Law School. At Drake, she teaches courses in contracts, legal ethics, sales and sexuality and the law.
Her scholarship has focused on the legal status of differing forms of marriage and on legal ethics topics such as confidentiality, attorney-client privilege, and intersections between lawyer liability and ethics.
The Humanities Colloquium Series will continue through the spring with the following presentations, which will take place from 3:30 to 5 p.m. in the Honors Lounge of Medbury Hall:

April 9 — Stacey Tovino, director of health law and policy and associate professor of law, "Scientific Understandings of Postpartum Illness: Improving Health Law and Policy"
April 30 — Peiqin Zhou, visiting Fulbright Scholar, "Christianity and English Learning in Nanjing, China"
For more information about the series, contact Joseph Schneider at joseph.schneider@drake.edu.