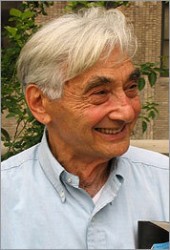 Howard Zinn
MEDIA CONTACT: Tory Olson, 515-271-1834, tory.olson@drake.edu
To honor the memory of political activist and scholar Howard Zinn, who died earlier this year, Drake University will present a screening of Zinn's 2010 film, "The People Speak," on Thursday, March 25.
The event, which is free and open to the public, will begin at 7:15 p.m. in room 206 of Olin Hall, 1344 27th St. A panel discussion of the film will follow the screening.
"The People Speak" features performances by Zinn, Matt Damon, Morgan Freeman, Bob Dylan, Bruce Springsteen, Marisa Tomei, Viggo Mortensen and Don Cheadle, among others.
Aiming to give voice to those who spoke up for social change throughout U.S. history, the film draws on the letters, diaries and speeches of everyday Americans who insisted on equality and justice.
The film is based on Zinn's landmark 1980 non-fiction book, "A People's History of the United States," which presented American history from the perspective of working people, rather than political and economic elites. More than one million copies of the book have been sold since its publication.
This event is held in memory of Zinn and sponsored by the Central College Chapter of Organize the Hope, Drake University History Honors Society and the American Friends Service Committee.
For more information, contact Carol Spaulding-Kruse at 515-271-3969 or carol.spaulding@drake.edu.