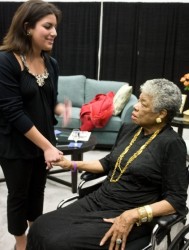 Brittney Miller, left, talks to Maya Angelou during Angelou's visit for Drake's Bucksbaum Lecture last October.
CONTACT: Tory Olson, 515-271-1834, tory.olson@drake.edu
Brittney Miller, a junior at Drake University, has been selected as a finalist for a 2010 Truman Scholarship for her leadership potential, intellectual ability and likelihood of "making a difference."
Miller, an English and political science major from Duluth, Minn.,
is one of 176 finalists who represent 122 different colleges and
universities across the United States.
She participated in a final interview March 10 for the scholarship
among other finalists from Minnesota, Wisconsin and North and South
Dakota. Truman Scholars will be announced on March 30.
"The Truman Scholarship is a very prestigious scholarship in the
United States," said Eleanor Zeff, associate professor of politics and
international relations, who advises students on Truman scholarships.
"I was thrilled to learn I was a finalist for the Truman
Scholarship," Miller said. "The application and interview process was
challenging, but overall such a great experience."

"I met all of the finalists from my region at the interview, and
it was great to see how much passion and dedication our generation has
for public service," she added.
Miller said she plans to go to school in St. Paul and pursue a
master's in public policy degree and a law degree. She said her hope is
to run a non-profit agency in the Twin Cities or work for the Legal Aid
Society.
"I firmly believe the legal system and our social institutions are
connected," Miller said. "Due to this connection, I want to pursue a
career where I can use legal knowledge to help create meaningful,
effective policy."
Selected Truman Scholars will attend Truman Scholars Leadership
Week from May 25 to May 30 at William Jewell College in Liberty, Mo.
They will also participate in an awards ceremony May 27 at the Harry S.
Truman Library in Independence, Mo.

Truman Scholars also receive a scholarship that provides funding for students' senior years and for graduate study.
The Harry S. Truman Scholarship Foundation awards merit-based
$30,000 scholarships to college students who plan to attend graduate
school and pursue careers in government or elsewhere in public service.