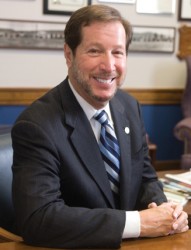 President David Maxwell
Drake University President David Maxwell recently was elected to the Board of Directors of the American Council on Education (ACE), the major coordinating body for all the nation's higher education institutions. The election took place at ACE's 92nd annual meeting Monday, March 8, in Phoenix.
"We are delighted to welcome David Maxwell to the ACE Board of Directors," said ACE President Molly Corbett Broad. "He has served ACE well as a member of our Commission on Effective Leadership with his thoughtful participation and key insight. His strong leadership at Drake University will add important perspectives at the ACE board table."
Founded in 1918, ACE represents more than 1,600 college and university presidents and more than 200 related associations nationwide. It seeks to provide leadership and a unifying voice on key higher education issues and influence public policy through advocacy, research and program initiatives.
"As the national voice and forum for America's colleges and universities, ACE plays a central role in shaping the future of higher education in this country," President Maxwell said. "It is a privilege and an exciting opportunity to be part of ACE's leadership discourse. I am also very grateful for the chance to serve that effort, and to contribute whatever I can to moving the discussion forward."
Maxwell, who chaired ACE's Commission on International Education, is one of seven new board members elected to three-year terms. The others are:

Brice W. Harris, chancellor of Los Rios Community College District in California
Anthony W. Marx, president of Amherst College in Massachusetts
Felix V. Matos Rodriguez, president of Eugenio Maria de Hostos Community College of the City University of New York
James H. Mullen, president of Allegheny College in Pennsylvania
Ricardo Romo, president of The University of Texas at San Antonio
R. Gerald Turner, president of Southern Methodist University in Texas
ACE members also elected John Sexton, president of New York University, as chair of the Board of Directors. Eduardo J. Padron, president of Miami Dade College, was elected vice chair; and Leslie Wong, president of Northern Michigan University, was elected secretary.
Now in his 11th year at Drake, President Maxwell already serves in key roles in several national educational organizations.
He is a member of the Executive Committee of the Business/Higher Education Forum and the Board of Directors of the Association of the American Colleges & Universities. He also serves as a member of the Higher Education Working Group on Global Issues of the Council on Foreign Relations. In addition, he is a member of the editorial board of Peer Review.
President Maxwell formerly chaired The New American Colleges and Universities, a national consortium of 22 selective, independent institutions dedicated to the purposeful integration of liberal education, professional studies and civic engagement.