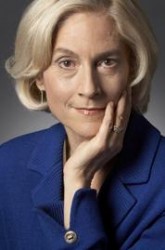 Martha C. Nussbaum
University of Chicago professor Martha C. Nussbaum, one of the nation's outstanding philosophers and public intellectuals, will give a free, public lecture at Drake University on Monday, March 22.
The lecture, titled "Liberty of Conscience: The Attack on Equal Respect," will start at 7 p.m. in Sheslow Auditorium in Old Main, 2507 University Ave.



Nussbaum is the Ernst Freund distinguished service professor of law and ethics at the University of Chicago. She also has taught at Harvard, Brown and Oxford universities. Her publications include 15 books on topics ranging from ancient Greek philosophy to liberal education to the conditions of women in the Third World.
Nussbaum's visit to Drake is sponsored by the University's Engaged Citizen Experience and complements the program's theme of "Religion, Reason and the Republic."
In her lecture, Nussbaum will focus on issues that she explored in her 2008 book, "Liberty of Conscience: In Defense of America's Tradition of Religious Equality."
She will discuss the basic problems of religious toleration and respect that face all modern nations, examining the doctrines of "free exercise" and "non-establishment" of religion.
Nussbaum's lecture will explore issues such as the dispensation from laws on the grounds of conscience, public displays and school prayer. She will contend that the core value in the American constitutional tradition is that of equal respect for conscience, a value that militates against all governmentally created hierarchies or "in-groups." She will conclude by examining the major threats to the tradition of equal respect.
Nussbaum holds a bachelor's degree from New York University and a master's degree and doctorate from Harvard. She has chaired the Committee on International Cooperation and the Committee on the Status of Women of the American Philosophical Association, and currently chairs its new Committee for Public Philosophy. She also has been a member of the Association's National Board.
She won the NYU Distinguished Alumni Award in 2000, the Grawemeyer Award in Education in 2002, the Barnard College Medal of Distinction in 2003 and the Radcliffe Alumnae Recognition Award in 2007.
Also in 2007, she published "The Clash Within: Democracy, Religious Violence, and India's Future." Her most recent book, "From Disgust to Humanity: Sexual Orientation and Constitutional Law," was published last month by Oxford University Press.
Nussbaum's lecture at Drake is made possible by generous contributions from:

The David and Carol Golder Endowment Fund for the Engaged Citizen Program, established by 1979 Drake alumnus David Golder and his wife, Carol
Roger and Joyce Lethander, both 1965 Drake alumni
The Engaged Citizen Experience
The Martin Bucksbaum Distinguished Lecture Series
The Drake President's Office
The College of Arts and Sciences
The Drake Constitutional Law Center
For more information, contact Vice Provost for Academic Affairs John Burney at 515-271-3804 or john.burney@drake.edu.