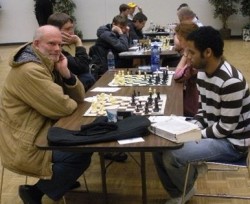 Players competed in three United States Chess Federation-rated tournaments.
CONTACT: Tory Olson, 515-271-1834, tory.olson@drake.edu
More than 60 talented players from the Midwest, including six Drake University students, recently competed in the largest non-scholastic chess tournament in Iowa in the last few years.
The Drake Chess Festival, held on Drake's campus, drew more participants than the 53rd Iowa Open held in 2007.
The following Drake Chess Festival players took first place in their respective United States Chess Federation-rated tournaments:

Frank Li of Iowa City, Iowa, Iowa State Chess Association Under 1200 Section mini-qualifier (advanced players)
Matt Jacobs of Cameron, Mo., Reserve Tournament (advanced players)
Joe Knapp of Omaha, Neb., Rated Beginner Open Section tournament
Li, who competed against 29 players in the Under 1200 Section, scored 4.5 points out of 5 points to capture first place defeating Drake student Sin Jei Goh, Joseph Jacobs, Daniel Carson and Nicholas Leung, all four tied for second place. Players in the Under 2100 Section tournament had an average rating of 641.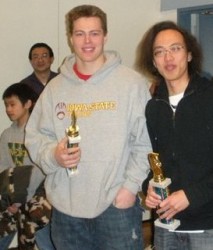 Iowa State student Joseph Jacobs, left, and Drake student Sin Jedi Goh, right.
Jacobs, who competed in the Reserve Tournament with 16 players, was the
only player out of 62 participants to go undefeated and untied for the
day with a 4-0 score. Reserve players had an average rating of 1371.
Jacob's brother, Joseph, scored 4 points out of 5 in the Under 1200
Section, bringing the Jacobs brothers to a combined score of 8 points
out of 9.
Knapp scored 3.5 points out of 4 points in the open section tournament,
which featured 17 players with an average rating of 1852. Knapp also
enjoyed back-to-back wins over Robert Keating and Dan Vasto before
finishing with a draw to defeat Matt Anzis. Anzis, Vasto, Jeremy
Madison, Keating and Eric Vander Linden each had 3 points to tie for
second place.
In addition, Sin Jedi Goh of Malaysia won a trophy for first place for
"Unrated" or new players. Other Drake participants, all from Malaysia,
included:

Ahmad Shamel Salahudin
Wei Bing Hong
Chong Ruey Sim
Jun Lok Soo
Yee Ping Voon
The event was sponsored by Drake Minds Sports Organization, formerly the Drake Chess Club, and Iowa State Chess Association.