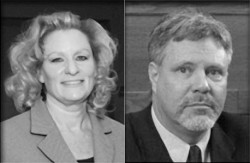 Michele Devlin and Mark Grey
Two University of Northern Iowa faculty members will give a presentation at Drake University on the "Demographics of Immigration" in the wake of the largest raid in Iowa history at the Postville meatpacking plant on May 12, 2008.
Mark Grey, professor of anthropology, and Michele Devlin, professor of public health, will give a free, public lecture from 5:15-6:15 p.m. Tuesday, March 23, in Sheslow Auditorium in Old Main, 2507 University Ave.
They are co-authors with Aaron Goldsmith of a new book titled "Postville, USA: Surviving Diversity in Small-Town America."
Grey was scheduled to give his part of the presentation on Feb. 9, but the event had to be postponed when he was unable to travel to Des Moines because of a snowstorm.
He is founder and director of the Iowa Center for Immigrant Leadership and Integration. Since its founding in 1999, the center has worked with more than 12,000 Latino
immigrants, Bosnians, East Africans, Hassidic Jews, Eastern Europeans
and Southeast Asians around the state, as well as with the
professionals and host community residents that serve them.
Devlin is director of the Iowa Center on Health Disparities, a model organization originally funded by the National Institutes of Health to improve health equity for underserved populations. She also directs Cultural Connections, a nonprofit consulting organization at UNI that provides training for agencies on cultural competency, tolerance and diversity issues.
The March 23 presentation by Grey and Devlin is part of a series of events that Drake's choral program has organized on issues of immigration, homelessness and housing.
The series aims to provide context for an upcoming performance by the Drake Choir, Chamber Choir and Drake University/Community Chorus.
The free concert, "Where You Belong," will be performed at 3 p.m. Sunday, April 18, on the Jordan Stage in Sheslow Auditorium.
The presentations leading up to the concert are designed to help singers and listeners connect to key societal issues through music and to elicit a spirit of service in the community.



"Choral music is an especially important vehicle for helping people to understand that they are part of something much larger than themselves," said Aimee Beckmann-Collier, Drake director of choral studies.