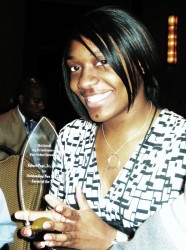 Crystal Nance was recognized with the award for her leadership and plans to promote leadership in her professional career.
CONTACT: Tory Olson, 515-271-1834, tory.olson@drake.edu
Drake University senior Crystal Nance recently received the Robert Page Award at a conference on black leadership at the University of Texas at Austin.
Nance, a public relations and sociology major, won the Robert Page Award for Outstanding Non Big XII Senior of the Year. To be eligible for the award, Nance submitted an application addressing her commitment to education and service. She also wrote about how she selected her college major and educational goals, as well as professional plans after graduation that promoted leadership.
"I am excited to say that I earned this award my senior year," Nance said. "The scholarship award will definitely be a big help to me as I end my final semester at Drake."
She attended her first Big XII conference at the University of Nebraska-Lincoln her first year at Drake and made it her goal to make sure someone from Drake won a scholarship or award at the conference by the time she graduated.
The Big XII annual conference, which was held this year from February 25-28, is comprised of a regional Black Student Governing Body and held at one of the Big XII campuses. It aims to provide strong, determined and courageous leadership and advocacy to affect social and academic environments. The Big XII Council on Black Student Government has held the conference since 1978.
For more information on the conference and awards given, visit www.powerful2010.com.