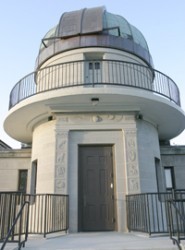 CONTACT: Tory Olson, 515-271-1834,
tory.olson@drake.edu
The spring lecture series at the Drake Municipal Observatory will present its first installation of about modern beliefs and ancient logic in the sciences on Friday, March 19.
The event, "Old Beliefs Die Hard," which is free and open to the public, will start at 8 p.m. at the observatory in Waveland Park on the west side of Des Moines, 4898 Observatory Rd, off Polk Boulevard. Parking is available adjacent to the observatory.
The presentation will discuss how ancient logic has prevailed while modern views have deceived. Among the topics discussed will be the inability of old instrumentation to prove ancient beliefs, such as the sun being the center of the solar system, allowing skeptics to control scientific beliefs.
"In ancient Greece, many scientists knew the sun was the center of the solar system and not the earth, but until technology improved, skeptics were able to keep this knowledge from the public. Some of these old beliefs are still maintained," said Herbert Schwartz, of Drake's Department of Physics and Astronomy.
This semester's series will focus on what astronomers and the public believe to be truth but are often wrong. Topics will include basic assumptions by the public regarding space and our universe, the doomsday predictions of 2012 and others and the unknown questions astronomers have yet to answer.
Each week there is a non-technical, illustrated presentation by Charles Nelson and Schwartz. Every presentation is followed by the opportunity to view several stellar objects through the large refracting telescope and several smaller reflecting telescopes.
The program is held regardless of the weather, although the selection for observation is subject to change due to sky conditions or other special circumstances.
The schedule for the spring series is listed below:

March 19

: "Old Beliefs Die Hard"

March 26

: "Just Plain Wrong"

April 2

: "Hoaxes"

April 9

: "Fact vs. Fiction"

April 16

: "Seeing Is Not Believing"

April 23

: "The End of the World STAR PARTY"

April 30

: "There Be Dragons!!!"

May 8

: "The Mystery Remains"
For more information, contact Drake's Department of Physics and Astronomy at 515-271-3141.