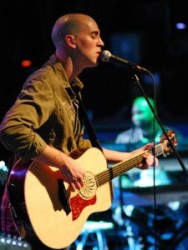 Tyrone Wells
Drake University's Students in Free Enterprise (SIFE) have organized a night of entertainment to benefit an Iowa company's clean water efforts in impoverished nations, featuring indie rock singers Tyrone Wells and Tony Lucca on Thursday, March 25.
The Water the World Benefit Concert will begin at 7 p.m. on Pomerantz Stage in Olmsted Center, 2875 University Ave. Doors will open at 6:30 p.m.
Proceeds from the show will benefit the Hays Pure Water for All Foundation, which operates through a subsidiary of Hays' Water Science.
Based in Washington, Iowa, the foundation gives individuals, disaster relief teams and non-profit organizations the opportunity to provide clean water to other countries. SIFE will use the funds to coordinate a team of Drake students who will deliver Hays' water devices to a nation in need.
Hays' Water Science specializes in simple chlorine generators that are both portable and permanent to meet the level of need. The generators, which operate on a saline solution and low electric current, are small handheld units capable of producing disinfectant for communities devoid of safe water.
Concert guests may enjoy the show for $10 or may opt for a special VIP package, which includes premium seating, a donation to Hays Pure Water for All Foundation and a pre-show performance by headliner Tyrone Wells. VIP ticket prices are $60 per seat.
Drake students may enjoy the concert for $1 or one canned good.
In addition to the benefit concert, which is funded in part by Drake's Student Activities Board and Student Senate, SIFE is working to raise support for the foundation by assembling information for local businesses.
Tyrone Wells' newest album and second major-label effort, "Remain," was ranked No. 1 on iTunes' Folk charts in July 2009. His music also has been featured on episodes of several television series, including "Grey's Anatomy," "One Tree Hill" and "Rescue Me."
Tony Lucca, winner of the L.A. Music Award for Best Male Singer/Songwriter, has written and self-produced five studio albums. His music has been featured in television, on programs including "Friday Night Lights," "Brothers and Sisters" and NBC's "Last Call with Carson Daly."
Tickets may be purchased through http://www.iowatix.com.
For more information, contact Luke Dawson, president of SIFE, at lucas.dawson@drake.edu.