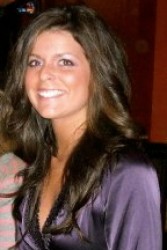 Meg Fisher
FOR IMMEDIATE RELEASE

March 4, 2010
CONTACT: Tory Olson, 515-271-1834, tory.olson@drake.edu
On the heels of launching her new business, December Drake University graduate Meg Fisher recently took first place and a $5,000 prize at the Pappajohn New Venture Business Plan Competition.
The competition was held in Mason City, Iowa, where Fisher presented her business plan for Lincoln&Lexi, a proprietary line of children's clothing and accessories.
Fisher, 21, of Des Moines who graduated from Van Meter High School in 2006, launched the business after earning a bachelor's degree in entrepreneurial management and marketing last December.
"Graduating early with two majors and the foundation for an entrepreneurial endeavor is no small task, but Meg has certainly risen to the occasion," said Deb Bishop, director for Drake's Pappajohn Entrepreneurial Center and assistant professor of practice in management.
"Meg truly personifies the entrepreneurial spirit we strive to foster at Drake," said Thomas M. Swartwood, adjunct professor of entrepreneurship at Drake.
Having cared for children since age 10 and working in retail through high school, Fisher created the business as a way to combine her interests in children, shopping and fashion. She has continued to work as a nanny to finance the venture. Her company name is inspired by the names she has planned for her own future children.
Lincoln&Lexi operates through at-home parties and baby showers, offering parents an alternative way to shop for children's items.
Fisher originally envisioned a retail storefront location in Des Moines. However, through Drake's entrepreneurial management program, the storefront idea evolved into a multi-level management venture, which will employ a team of sales representatives.
"Multi-level management is a much better investment because I will not have any of the storefront costs," Fisher said. "I also will be able to keep a much lower inventory, because I can order on an as-needed basis and will only be charged when I sell the item."
The company's Web site also enables parents, grandparents and other clientele to order items online, including clothing, blankets, diaper bags and, eventually, maternity wear. Products, which are all custom and sewn by hand, are designed exclusively for the line and will offer the latest fashions.
"One of the biggest advantages is that the business goes where I go," Fisher said. "If I want to travel for a weekend, I pack up all the products and take them with me and have the ability to sell 24/7."
For more information about Lincoln&Lexi, contact Fisher at 515-778-3393 or LincolnAndLexi@gmail.com. Visit Lincoln&Lexi's Facebook page online.