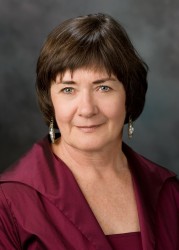 Jane Olson
Human-rights advocate Jane Olson, who has traveled to myriad countries on behalf of humanitarian organizations, will present a lecture at Drake University on Wednesday, March 10.
Olson, chairperson for the International Board of Human Rights Watch, will give a free public lecture titled "Survivorship Stories from 30 Years of War." The lecture will start at 7 p.m. in Sheslow Auditorium in Old Main, 2507 University Ave.
She traveled to Nicaragua and El Salvador during the Contra Wars, the former Yugoslavia during the ethnic cleansing of Bosnia and the former Soviet Union during conflicts in Azerbaijan, Armenia and Georgia. Her mission trips to Africa, Asia and South America have focused on refugees, human rights, HIV/AIDS and landmines.
Olson has won numerous awards, including the inaugural 2005 Eleanor Roosevelt Award from Feminist Majority. In January, she received the "Women Making History" Award from Sen. Barbara Boxer, D-Calif.
Since 1988, Olson has worked on behalf of the International Board of Human Rights Watch (HRW), the largest international human rights organization in the country, and has chaired its Board of Trustees for seven years.



She also has co-chaired the board for Survivor Corps for the past 12 years since it was founded as the Landmine Survivors Network (LSN).
Both HRW and LSN were among the five institutions to receive the Nobel Peace Prize for the International Landmine Ban Treaty in 1997.
Olson serves as a board member for the Pacific Council on International Policy. She has been vice chair of the Women's Refugee Commission, which is based at the International Rescue Committee in New York.
She received her bachelor's degree from the University of Nebraska in 1964. Her husband, Ronald Olson, is a 1963 Drake graduate. His Los Angeles law firm, Munger, Tolles & Olson LLP, earned first place in the American Lawyer magazine's national elite law firm rankings for 2008 and 2009.
"Survivorship Stories from 30 Years of War" is sponsored by the Drake University Center for Global Citizenship, which aims to educate students to function effectively in different cultural contexts and to see their own culture from the perspective of others. The center also works to ensure that global perspectives and issues are an integral part of the intellectual and cultural experience of all members of the Drake community.
View the Center for Global Citizenship's calendar of events on the center's Web site.
For more information, contact David Skidmore, center director, at 515-271-3843 or david.skidmore@drake.edu.