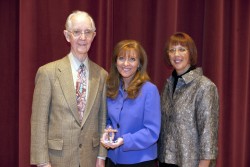 C. Boyd Granberg, Renae Chesnut and Dean Raylene Rospond.
CONTACT: Tory Olson. 515-271-1834, tory.olson@drake.edu
Drake University professor Renae Chesnut was recently awarded the C. Boyd Granberg Professional Leadership Award in recognition of her dedicated service to professional pharmacy organizations.
The award, which was presented during the College of Pharmacy and Health Sciences Day, recognizes a faculty member for professional organization leadership, demonstration of professional leadership traits and commitment to advancing the pharmacy profession.
Chesnut of Johnston, associate professor of pharmacy practice, received a commemorative award, a professional development stipend and will work to foster professional involvement and leadership in faculty and students.
She also serves as associate dean for academic and student affairs and is a founding member and team leader of the Drake Entrepreneurial Leadership Tools for Advancement Institute.
Before joining Drake in 1993, she worked for Eli Lilly & Co. as a pharmaceutical sales representative. Chesnut holds a bachelor's degree in pharmacy, a master's degree and a doctor of education degree from Drake.
The C. Boyd Granberg Professional Leadership Award was established in 2008 by Drake pharmacy alumni in honor of C. Boyd Granberg of Des Moines, a longtime faculty member and dean emeritus of the college. Last year, Professor of Pharmacology and Department Chair of Pharmaceutical Studies Robert Soltis received the inaugural award.
Granberg is a leader in the profession, having served as president of the Iowa Pharmacy Association, director of the Accreditation Council on Pharmacy Education and editor of the American Journal of Pharmaceutical Education.