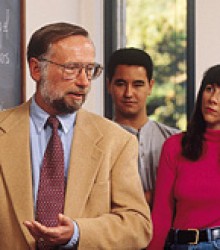 Bob Hunter
Faculty gathered at the end of the fall semester to celebrate the retirement of Professor of Law Bob Hunter, who served Drake Law School and the University in key leadership positions and received many teaching awards during his 38-year-career at Drake.
Hunter joined the Law School faculty in 1971 after beginning his teaching career at the University of Akron Law School, where he met two other young faculty members — David Walker and Larry Pope.
"Bob came to Drake in 1971 and was followed by Larry Pope in 1973 and David Walker in 1975," Dean Allan Vestal said in his formal remarks at the retirement reception. "I am told Bob was always a faster learner than the other two, as evidenced by him beating them to Drake."
Hunter has taught a wide range of courses including Constitutional Law, Education Law, Civil Procedure, Agency and Partnership, Federal Jurisdiction and several others. He quickly developed a reputation as a demanding teacher who is both respectful and respected. His students often described him as fair and thoughtful and his teaching as artful and creative.
"When I visit alums," Dean Vestal added, "they always comment about how much they learned in Bob's classes. He will be sorely missed in the classroom. Let me share with you his philosophy of teaching to give you some sense of why he is so revered:
"I became a law professor in order to teach students how to solve real problems for real people. I am a practical person. I teach practical law — how the world works and how to get along in it. Few, if any, of my students take Constitutional Law in order to create a new nation or form a new government, but many study it to learn how to represent people subjected to racial, gender, or other forms of discrimination.
"I try to impart a reality and enthusiasm in the classroom. Teaching current law is a small part of my job. More important is teaching what the law should be, what it might be and how to represent a client's interests in an unknown future. Creativity is more important than memorization. Personal integrity is more important than a high grade. I encourage students to find and nurture these qualities within themselves."
Hunter's superior teaching earned him the Leland Forrest Outstanding Teacher Award at least seven times. He also received two of the University's top honors for teaching —
the Burlington Northern Senior Teacher of the Year Award in 1988 and the Madelyn M. Levitt Teacher of the Year Award in 1996. In addition to teaching, he advised the Law School's Moot Court team for at least 15 years.
He served as president of the Drake Faculty Senate in 1994-95 and as interim dean of the Law School in 1996-97. He also chaired the Drake Campus Presidential Search Committee in 1998-99.
"Whenever a tough job needed doing, Bob was there with a steady hand and a focused commitment to the task at hand," Vestal said.
At the celebration, Vestal presented Hunter with a framed print of Old Main signed by Law School faculty and staff. Hunter accepted the gift and said, "I treasure my 38.5 years at Drake Law School. I've had a great career and wonderful colleagues and students. It's been a joy."
When asked what he and his wife, Linda, plan to do in retirement, Hunter said, "It's been fun to finish something and have new opportunities. I'm not sure yet what they'll be. I'm eager to see what's next."