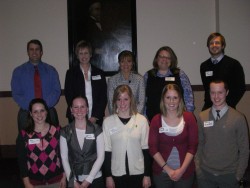 Craige Wrenn, Karen Merrill, Renae Chesnut, Michele Evink, Andrew Miesner. Students; Amy Kuehl, Kathryn McDonald, Julie Ausborn, Emily Lentz, Andrew Roberts
Phi Lambda Sigma, pharmacy leadership honorary society, and Rho Chi, pharmacy academic society, expressed their appreciation to five pharmacists and faculty members at their annual Appreciation Reception, held in Sheslow Auditorium on February 4, 2010. The faculty and pharmacists honored were: Renae Chesnut, Michele Evink, Andrew Miesner, Karen Merrill, and Craige Wrenn. The recipients were selected from nominations submitted by the society members and were receognized at the event with the following statements.
Dr. Renae Chesnut
Dr. Chesnut exudes leadership and scholarship through her endless support and encouragement of students in the College of Pharmacy and Health Sciences. She is always willing to assist students, and truly wants all students to succeed to their full potential. Dr. Chesnut is not only a leader within the college, but also within the profession of pharmacy. I commend her energy and dedication to enhancing the roles of pharmacists as well as her willingness to take on new challenges. Drake University is lucky to have such a passionate, driven, and caring individual such as Dr. Chesnut.
Nominated by Megan Ostrem
Dr. Michele Evink, Clarke County Hospital
Dr. Michele Evink is the pharmacy director at Clarke County Hospital, and I was fortunate enough to have the chance to do a rotation with her. On that rotation, I found my role model for a clinical pharmacist position. I was amazed at the amount of dedication Michele has for her patients and the profession. She goes to great lengths to make sure she is taking care of her patients' needs. Virtually no patient leaves Clarke County Hospital without talking to her at least once. She also has built great rapport with the other health care professionals. The doctors and nurses trust her opinion and often seek it out. It is because of her that the other professionals expect and demand pharmacy's involvement with every patient.
In addition to the work Michele does at CCH, she also precepts student. I feel this is a very important aspect of our profession. We need leaders like her to give students something to aspire to. She allows students to see every aspect of her job as pharmacy director. She also teaches students how to approach other health care professions with recommendations and how to build relationships with them. The opportunities at this site were endless, and she allowed me to take advantage of all of them. It is obvious that she enjoys precepting and values the students' opinions. On top of all the great learning opportunities I had, Michele makes pharmacy fun. I looked forward to going to the CCH rotation everyday because of the environment she had created for students.
Nominated by Erin McCleeary
Dr. Meisner
I'm fortunate to say I've had the opportunity to interact with Dr. Andrew Meisner throughout my time as a pharmacy student at Drake. Early in the professional program, I listened to him discuss what he had gained from being a hospital resident, and most recently, I was able to work with him closely on his acute care rotation at Broadlawns Hospital.
I've come to regard Dr. Meisner not only as a mentor, but also as an academic and professional role-model. His tenacity towards continuous professional development at his practice site is both refreshing and motivational to witness. Most importantly, he has a deeply rooted understanding and respect for his place as an educator. He strives to ensure that all his students, no matter what level or type of learner, have a multidisciplinary understanding of topics and situations. He realizes how integral preceptors can be in the success of their students; affording active participation in the education process.
I nominate Dr. Andrew Meisner for the Pharmacist Recognition Ceremony. He is a great example of how one pharmacist can successfully impact and advance pharmacy (and in a short time, as well). By dedicating himself to opportunity, and striving for success, he continually inspires those around him to achieve their fullest potential. He is an invaluable asset to both Drake and the profession.
— Anonymous
Karen Merrill, Medicap Pharmacy, GRX Holdings



I met Karen through the DELTA Rx Entrepreneurial Summer Internship with GRX Holdings. I soon came to learn of her involvement with Drake as well as her dedication to the professional development of Drake pharmacy students. Karen shows her leadership through volunteering her time. She has acted as the Preceptor for APhA's Operation Diabetes, which included events at last year's Diabetes Fall Fitness Day and the Fifty Something Expo at Merle Hay Mall, both weekend events. Karen has also offered to act as a mentor for Drake's NCPA Business Plan Competition, where she will provide feedback and convey her knowledge of business finance related to opening a community pharmacy. Through GRX Holdings, scholarships have been awarded to Drake Pharmacy Students in support of their education. As the Vice President of a successful company, Karen has a lot on her plate, yet she realizes the importance of properly educating future pharmacists and thus devotes a lot of her time to this cause. Karen is an excellent preceptor and mentor for every student she comes in contact with. She takes students' ideas to heart and empowers them to make their ideas happen. Her ability to grow and nurture the pharmacists of tomorrow makes her highly worthy of the Rho Chi-Phi Lambda Sigma Honorary Award.
Nominated by Kathryn McDonald
Dr. Craige Wrenn
Dr. Craige Wrenn has been a faculty member at Drake University for many years now in which he has taught thousands of pharmacy students. He has taught pharmaceutical science classes and the PDA series of classes that are the fundamental courses for the pharmacy curriculum. I believe he does an extraordinary job each year with the new students that come into his classes. By the time the students leave his class for the year they are much wiser and usually more excited about the pharmacy profession. His teaching style engages students which encourages them to go beyond the classroom to learn about the material he presents. Dr. Wrenn is always a very approachable teacher and mentor that lives off of the ability to teach others. He truly wants to make his students smarter and more inquisitive than himself.

Dr. Wrenn also does tremendous work with numerous students through his research laboratory. He helps students get hands on experiences in material that they are interested in. He helps them understand deeper concepts and allows them to discover the world of pharmacology beyond the classroom. Dr. Wrenn encourages students to perform their own research with his guidance and support.
Dr. Wrenn exudes scholarship in his work as a teacher, researcher and mentor. He promotes learning, discovery and achievement for the students and faculty at Drake. He pushes students to reach their goals in classes and promotes forward thinking scholarship throughout the college through his involvement in many college committees. Dr. Wrenn is a professor that year after year successfully teaches, motivates and guides students and faculty.
Nominated by Dorothy Chrzaszcz