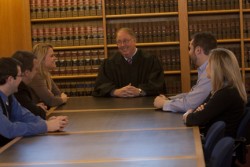 Drake law students debrief Chief Judge Arthur Gamble.
Drake's 13th annual Trial Practicum brought a vehicular manslaughter case to campus giving first-year law students front-row seats to observe a trial from start to finish.
More than 150 students watched the trial live in the Neal and Bea Smith Law Center courtroom and on closed-circuit television from conference rooms, where they observed with small groups of lawyers, judges and law faculty members.
The small groups discussed the testimony, the judge's rulings and the lawyers' strategies — all to give the future attorneys a preview of their coming career.
"Drake University Law School is the only school in the country that provides this type of experience for its first year students," said Trial Practicum co-director Jerry Foxhoven, associate professor of law and executive director of the Legal Clinic. "Its continued success demonstrates, once again, the unique opportunities that Drake University offers to its students."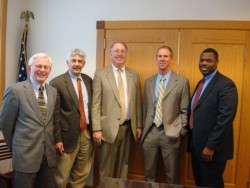 From left to right: Trial Practicum coordinator Russell Lovell, Deputy Polk County Attorney Steve Foritano, Chief Judge Arthur Gamble, Bobby Rehkemper, LW'02, and David Porter, LW'02.
The case, which previously was remanded by the Iowa Court of Appeals, involved the trial of Clive resident Andrea LaForge, who faced several criminal charges in connection with a 2007 rollover crash in which one of the passengers in her car was killed.
The jury in the State of Iowa v. Andrea LaForge found LaForge guilty of involuntary manslaughter – public offense. Involuntary Manslaughter is a Class D felony, with a maximum sentence of 5 years. There is no mandatory minimum sentence and probation is an option. LaForge is scheduled to be sentenced at a later date.
In addition to the trial itself, students observed special briefings with the attorneys trying the case on both sides, exclusive conversations with the judge and debriefings with jury members.
The experience is so valuable, Lovell said the Trial Practicum should be considered for law school curriculum nationwide.
"Our students consistently tell us their observation of a jury trial in the Trial Practicum is a highlight of their first year, if not their entire law school experience," said Associate Dean Russell Lovell, coordinator of the Trial Practicum, "and that it goes a long way to making them better lawyers in the future."