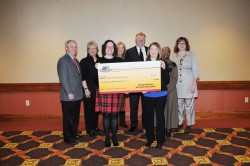 From left: front: Sara Lowe, reference librarian; Heather Storms, stack/circulation administration assistant. Back row: Jerry Deegan, Martha Willits, Andy McGuire, Mike Mathews, Mary Chapman and Karrie Weinhardt, all from of Prairie Meadows.
The Law School's Opperman Library recently received a $6,800 grant from Prairie Meadows Racetrack and Casino to support its archival project.
The Prairie Meadows Community Betterment award was presented at a luncheon earlier this month.
The award will provide the Law School with funding for its archive project in materials to arrange, store and exhibit the Drake Law School archives, which will be housed in the Dwight D. Opperman Law Library.
The Law Library also plans to purchase new file cabinets, archival quality containers and display cases.
Prairie Meadows Community Betterment Grants are awarded to projects in one of four categories: arts and culture, economic development, education and human services.
Prairie Meadows has contributed more than $433 million to promote these areas in Iowa.